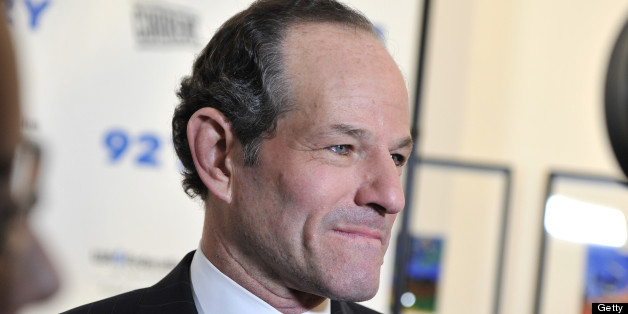 (RNS) Former New York Gov. Eliot Spitzer, who resigned five years ago amid a prostitution scandal, said he's running for New York City comptroller because he misses the policy fights and wants a chance to help shape the city's budget.
Spitzer, a Democrat, did a round of media interviews on Monday (July 8) as New York City residents awoke to his surprising interview in The New York Times saying that he will ask voters for "forgiveness."
Spitzer has until Thursday to collect the 3,750 signatures he needs from voters to get on the ballot for comptroller — a job for which he said he believes he has the right "skill set."
"I sinned, I owned up to it, I looked them in the eye, I resigned, I held myself accountable," Spitzer said on CBS' "This Morning" program. "It's now five years later. I hope they (voters) look back at what I did as attorney general, as governor, as a prosecutor and say, 'Hey, this guy was ahead of the curve on Wall Street issues.'"
On the Bill Press radio show, Spitzer said running for comptroller "is an opportunity to participate in the budget of the city." He told WCBS that he wants a chance to tell the public, "Here's what I can do." For the past few years, Spitzer has worked as a political commentator on TV and has taught at City College of New York.
The self-described "steamroller" who once cracked down on Wall Street became the first New York governor since the 1970s to step down. In a memorable news conference with his wife, Silda, standing somberly at his side, Spitzer admitted in 2008 that he was a client of a high-end prostitution ring while governor.
On CBS, Spitzer denied that he and his wife are separated and said he discussed with his family his political plans — which were made final this weekend. Asked if running for New York City comptroller was a step down from governor, Spitzer said, "Service is service."
"I think anybody who's been through what I've been through, sure, you want redemption," he said. "If that's what I wanted I don't think this is the path to do it. But what I am seeking is service … the most satisfying thing for me ever is public service."
Spitzer is now the third high-profile politician derailed by scandal to seek public office this year. Democrat Anthony Weiner, who resigned from Congress amid a sexting scandal in 2011, is running for New York City mayor and is at or near the top of some public opinion polls on the race.
Republican Mark Sanford was elected in May to a congressional seat in South Carolina, four years after admitting to an extramarital affair.