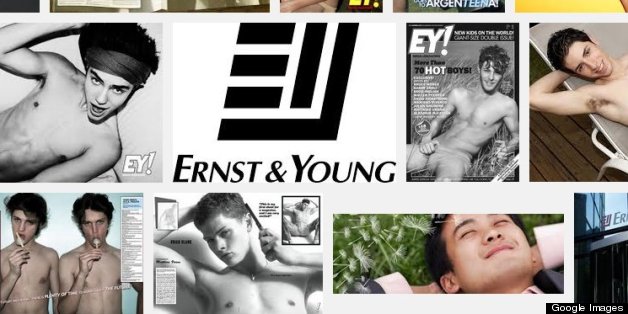 When seeking to rebrand a major multinational company, it's best to avoid new names that may link you to "sexy boys."
Yet that's precisely the predicament faced by accounting firm EY, which recently changed its name from Ernst & Young. Per the Los Angeles Times, the financial giant now shares its name with EY! Megateen, a magazine that features young male models posing suggestively and showing gratuitous amounts of skin.
A Google Image search for "EY" (Warning: NSFW) returns a page of results far outside the professional services firm's corporate branding guidelines. Although a few stately pictures of high-level executives and an older Ernst & Young logo with the tagline "Quality In Everything We Do" are peppered into the Google results, these are encircled by salacious photos of young men.
Gawker adds that EY! Megateen and American Apparel once collaborated to create a T-shirt with the slogan "Teenagers do it better."
The LA Times chimes in, having combed through EY! Megateen's front covers: "In 2009, Miley Cyrus' ex-boyfriend Justin Gaston was featured on EY! Magateen's cover wearing red briefs. The text on that issue's cover read: 'Living the American teen! Loads of photos! Sexy boys!'"
"We are aware of the images in question," said Amy L. Call Well, a communications director for the accounting firm, in an emailed comment to The Huffington Post. "It will be apparent to individuals looking for EY, the professional services organization, that the images are not related to us."
"Shortening our name will provide consistency and ease of use for EY practices and clients around the world," said EY's new CEO, Mark Weinberger, in a press release. "Our new brand name and logo demonstrate clearly and boldly who we are and reflect the goal we have recently set ourselves to be the number one brand in our profession."
The company had often been identified only as "E&Y" in the past, perhaps encouraging the transition to the current ampersand-free (if slightly more inappropriate) version of the name.
The official image redesign was led by brand consultancy BrandPie. A partner at BrandPie told Design Week that EY is aiming to become a "more progressive, contemporary and confident people focused company." We'll say!
Click for an image of Google Image's EY results. WARNING: NUDITY
BEFORE YOU GO
PHOTO GALLERY
The Most Embarrassing Logos Ever