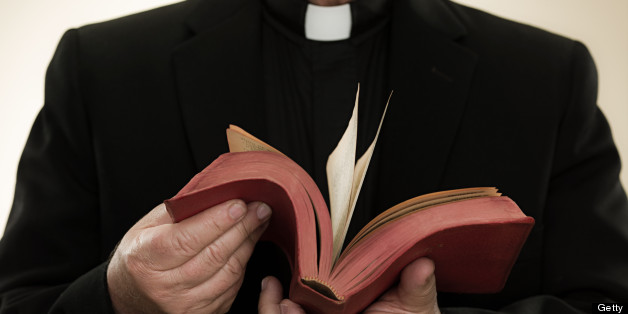 For the rebels among us, you wouldn't necessarily expect to identify with a Catholic priest. But brace yourselves: here comes "Father Gofo."
Adolfo Huerta Aleman, the 35-year-old priest in the Mexican city of Satillo, is making waves with his unorthodox and religiously controversial – some say blasphemous — ways.
Looking like a cross between Mana frontman Fernando "Fher" Olvera and the wrestler Sting, Father Gofo (as he is commonly referred to) is an unapologetic priest who rides a Harley and makes no bones about his taste in music, women and drinking.
He likes heavy metal. He enjoys Marilyn Manson and Fobia — music most devout Christians would find questionable at best. He's an avid blogger, Facebook and Twitter user. And he is sexually active.
His behavior prompted the Satillo diocese to send him on a six-month sabbatical to reflect on his actions.
This decision came after Gofo said in a March interview with proceso.com.mx that he enjoyed sex and doubted the existence of God.

Father Gofo's agenda to improve humanity
You may be thinking that this man is frivolous and disrespectful. "What is he doing in a position of piety and humility?"
Well, in true rebellious form, things are not always what they seem. Father Gofo does have an agenda to improve humanity – albeit through religiously untraditional ways.
In his interview with Proceso, the priest said, "I cling to faith as a motivation for meaning of life, not as much as a God or a religion. If there is no God, I don't care, my faith motivates me to look for a meaning to improve our relationships. This will help me to be a better human being."
He has said that by holding to strict tradition, the church is alienating itself further and further from contemporary culture.
His sermons draw on contemporary cinema, questionable humor and antics that often include throwing himself on the floor.
Father Gofo became a priest six years ago. He argues that his mission is to bring the Gospel up-to-date for the 21st century.
"Faith isn't just checking a card and going to church," Aleman said in Proceso. "Faith is a commitment to my historical reality, to change the circumstances of the church, to have commitment to the victims of drug trafficking, with the relatives of the disappeared, with transsexuals. The Catholic Church should not be a burden to society, but a relief."
Whether Father Gofo is a buffoon or the contemporary hero suppressed Catholics are looking for, one thing goes without question: he knows how to make a name for himself.
Originally published on VOXXI as Father Gofo: The sex-loving, God-doubting priest
BEFORE YOU GO
PHOTO GALLERY
Pope Francis Memes