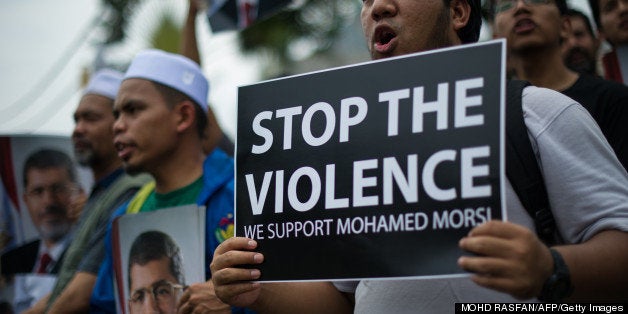 "To talk about the fact that Ramadan is upon us and that it's going have any soothing effect is as silly as to say in the height of a cycle of violence that occurs at Christmas time in Ireland that everybody is going to stop because it's Christmas," said John Esposito, a professor of religion, international affairs and Islamic studies at Georgetown University.
Esposito noted that this same question still gets raised over and over when ongoing conflicts coincide with Ramadan.
"We've seen that line brought up so many times in the last 20 years," said Esposito, "But if you feel that you're under siege and being attacked, you're going to fight against the enemy."
In Islam, Esposito noted, there is a commitment to the belief that one doesn't initiate or provoke. But if you consider yourself to be under attack? Not only do you have the right, but in some circumstances, you have the obligation to defend your community, according to Esposito.

Indeed, James Gelvin, a professor of Middle Eastern history at UCLA pointed out that Muslims are not actually prohibited from fighting during Ramadan. History has shown that Ramadan can even be a particularly violent month.
"According to the tradition, there are four months during which fighting is prohibited, and Ramadan is not one of them," said Gelvin. "There are some things that are in the tradition that are necessary, for example, insuring that the word of God is followed or preventing 'fitna,' which is chaos or rebellion. So everybody can justify fighting to end 'fitna.'"
According to Nezar Alsayyad, chair of the Center for Middle Eastern Studies at the University of California, Berkeley, several major historical battles have occurred during the holy month.
"The October War, which the Israelis call the Yom Kippur War, is actually known in Egypt as the Ramadan War," said Alsayyad. "Ramadan is not necessarily a month in which you're not supposed to fight, but more important is to recognize it's always been a month in which events have always happened."
While fighting isn't prohibited during the holy month, the Quran does specifically encourage nonviolent resolutions. When Nicholas Thompson raised this issue for Slate back in 2001, when the United States was engaged in conflict with Afghanistan, Islamic scholar Khaled Abou El Fadl noted that the Quran calls for peaceful resolutions during the holy month:
"Say I have a neighbor, and I extend a hand of kindness at the beginning of Ramadan. If he says 'go to hell,' Ramadan does not obligate me to turn the other cheek. What it requires is that I have made a good-faith effort at finding a moral way to resolve the conflict," he told Thompson at the time.
Alsayyad, for his part, argued that Ramadan could serve as a call to arms for some and a call for peace for others.
In light of the political unrest in Egypt right now, he said, "I cannot imagine that it would be a calm month."