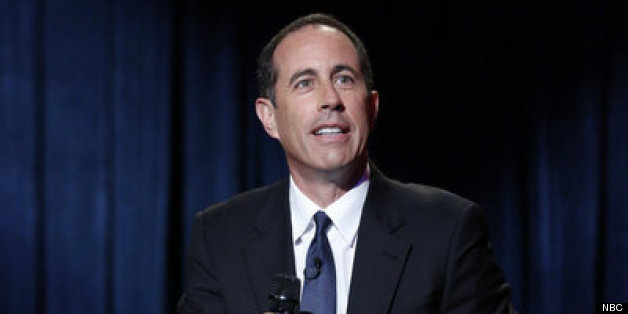 While on "Late Night with Jimmy Fallon," Jerry Seinfeld and host Fallon took audience questions for an online exclusive video. A fan asked Seinfeld whether his kids -- 13-year-old daughter Sascha, 10-year-old son Julian and 7-year-old son Shepherd -- have seen the infamous "The Contest" episode yet. Though he said they haven't, the comedian revealed they are watching "Seinfeld."
"My kids watch the show. I stopped and I asked them one time, I said, 'Why are you watching this?' Because it must be a weird experience for them to see dad ... It's like if Fred Flintstone was your dad and he's on TV all the time. So I asked my daughter, 'Why are you watching this? Are you watching it because it's so bizarre to see your dad on a TV show or because you like the show?' She thought about it and she went, 'I don't know.'"
Seinfeld said his kids have started taking on his attitude and certain parts of his bit.
An audience member asked the obvious question: Will there be a "Seinfeld" reunion? The comedian responded quickly with a "no" and said, at this point, it'd be an old person reunion. However, he did reveal one of his favorite episodes. "I like the one where Newman bursts into flames in the end," he said. "You ever see that one? 'The Pothole'?"
Check out the audience Q&A below.
PHOTO GALLERY
Summer TV Guide