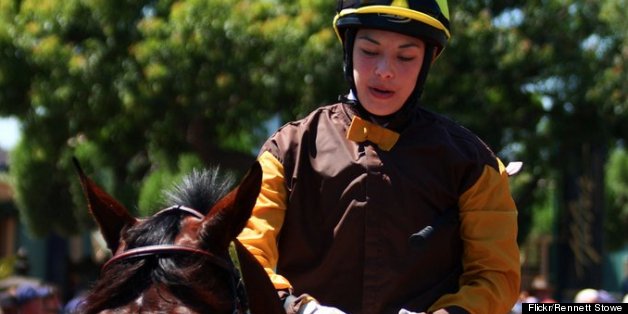 Australian jockey and new mom Kayla Stra was allegedly given a choice over the weekend by a steward at a California race track: Be a mother or be a jockey, but not both.
A heated war of words has since been waged between the stewards at Betfair Hollywood Park and the California Horse Racing Board, which slammed its employees for what it has deemed discriminatory practices.
According to UT San Diego, the controversy was sparked Saturday, when Stra, 28, claims stewards banned her from breastfeeding her baby boy in the women's jockey room at Hollywood Park. One of the stewards then allegedly told Stra's agent that the young mom needed to decide whether she was going to focus on caring for her child or her profession.
"That's what upset me the most," Stra said.
Steward Scott Chaney claimed to the newspaper that Stra had not been banned from the jockey room and insisted that she had been provided with a separate room to breastfeed and change her baby's diapers.
On Sunday, however, California Horse Racing Board chairman David Israel issued a damning statement lambasting the stewards for allegedly criticizing Stra and for treating her differently:
Kayla Stra's baby can be in the jocks' room. Her nanny can be with the baby. And both the mother and the nanny can do all the things they need to do. The [California Horse Racing Board] will not tolerate discrimination in any form against anyone for any reason. No special rooms. No one goes to the back of the damn bus. Period.

Not only can a jockey also be a mother, I'd like to encourage women to consider the possibility and the profession. It is the right thing to do and it is good business.
Stra issued her own statement Tuesday, thanking the board and people in the racing community for the "overwhelming support." She also took to Twitter this week to thank her fans for their encouragement:
Brys says thank you for the support in the case where he gets to see his ma between races :) pic.twitter.com/lci2PGQ7Rg

— Kayla Stra (@jockeykaylastra) July 8, 2013
In her statement, Stra added that despite Chaney's statement to the contrary, he had indeed banned her from the jockey room. Citing what she said were his "exact words," Stra said Chaney told her the following: "There are to be no babies or children in your jocks room or kitchen area anymore, anywhere. No one should be exposed to seeing a baby's diaper changed."
While breastfeeding is accepted as the healthiest option for baby, and nursing in public is legal in all 50 states, stories like Stra's are not uncommon. Earlier this month, a New York police officer allegedly compared a breastfeeding woman to a terrorist. Moms have also been shamed for breastfeeding at places including Hollister, Applebees, Target and church.
However, there's no shortage of moms working to normalize the sight of nursing in public and to erase the stigma attached to breastfeeding through blog posts, photography, and most recently, poetry. In a three-minute rhyming defense, poet Hollie McNish concluded:
So no more will I sit on these cold toilet lids

No matter how embarrassed I feel as she sips

Cos in this country of billboards covered in tits

I think we should try to get used to this.
Clarification: In an earlier version of this post, it was implied that the stewards who clashed with jockey Kayla Stra were employees of Betfair Hollywood Park. The post has since been amended to reflect that the stewards are employees of the California Horse Racing Board.
BEFORE YOU GO
PHOTO GALLERY
Places Moms Have Been Shamed For Breastfeeding