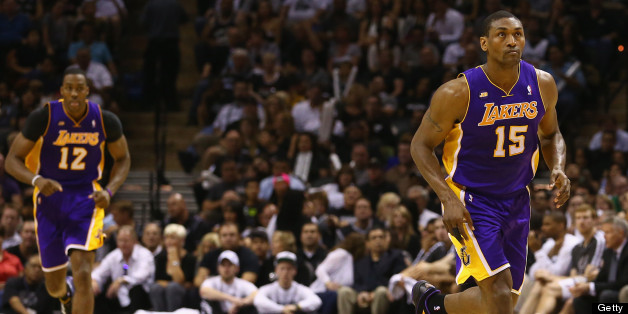 By Jose Martinez, Complex Sports
The Metta World Peace era with the Los Angeles Lakers may be coming to an end soon. According to Kevin Ding of the Orange County Register, the Lakers will soon use their amnesty provision on MWP—who was set to make $7.7 million this upcoming season—and save the franchise "about $30 million."
Sweet a guy as he is, @MettaWorldPeace will be waived via amnesty by Lakers to save about $30 million, barring some late change.

— KEVIN DING (@KevinDing) July 8, 2013
In case you're unfamiliar with the amnesty provision, the rule gives each team the opportunity to waive one player prior to the upcoming season without having their contract count towards the overall salary cap. The only catch is that the player must be signed prior to the 2011-12 season and the amnesty can only be used once in any season from 2012-13 to 2015-16.
With Pau Gasol set to make $19,285,850 next season, it may have made more sense from a financial sense to amnesty his contract. However, after Dwight Howard opted to sign with the Houston Rockets, the Lakers' need for a veteran big man was obviously more important.
At 33, World Peace is past his prime but we're sure he will find a team who wants his ferocity on their roster. So, any takers?
RELATED: Gallery: The Many Crazy Sides of Metta World Peace
[via Eye On Basketball]
BEFORE YOU GO
PHOTO GALLERY
Best 2013 Sports Photos