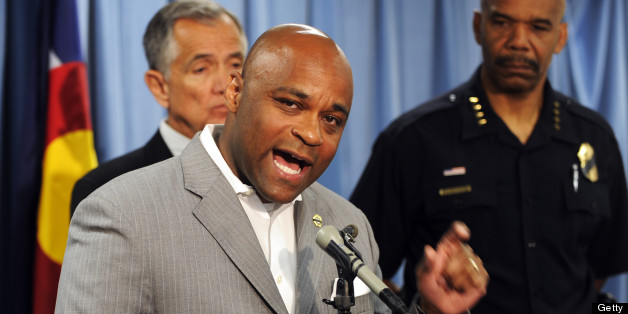 Denver Mayor Michael Hancock is considering an additional 5 to 10 percent tax on legal recreational marijuana sales in Mile High City -- that's on top of 25 percent in state taxes that remain to be approved by Colorado voters in November.
"We believe a 5 percent tax on recreational marijuana will fulfill the city's needs to effectively regulate and enforce this new law while protecting our children and families, supporting public health and ensuring the integrity of our neighborhoods," Hancock said.
However, marijuana reform advocates are concerned that high taxes could push pot back to the black market. "If it is too much tax too quickly, it will kill the transition to the legal market," Michael Elliott, director of the Medical Marijuana Industry Group, said according to KDVR.
The 5 percent tax, along with state revenue and other associated marijuana fees, would generate the City of Denver an estimated $9.2 million annually, The Denver Post reported.
Read The Denver Post's detailed report here.
Colorado's Taxpayers' Bill of Rights requires that Coloradans vote on any tax increases so they will be asked to weigh in on the 15 percent excise tax and 10 percent sales tax on this November's ballot. The Associated Press's Kristen Wyatt reported that some state lawmakers fear that voters will reject one or both of the tax proposals leaving the state stuck with the tab for enforcing pot sales but without the budget to pay for it.
Amendment 64 states that the first $40 million raised from the 15 percent excise tax would go to to school construction. And although many voters who supported A64 did so because it could raise money for schools, lawmakers are concerned that even fans of that excise tax rate and the use of its revenue could be turned off by a total tax rate of 25 percent, not including additional state and local taxes that could lead to marijuana taxes exceeding 30 percent in some areas.
But a recent survey from Public Policy Polling suggests those fears may not show up at the voting booth in November. According to PPP, 77 percent of Colorado voters support the 15 percent excise tax -- which Amendment 64 calls for and which is earmarked for public school construction -- as well as an additional 10 percent sales tax to cover the cost of regulating recreational marijuana sales. Only 18 percent of those surveyed were opposed to increased taxes on legal pot sales. The survey of 900 registered Colorado voters was conducted by Public Policy Polling from April 15-16.
In June, Denver City Council voted 10-1 to opt-in on pursuing local regulation for recreational marijuana sales beginning in 2014. Legal marijuana is expected to become big business in Denver -- Amendment 64 passed overwhelmingly in Colorado's capital city with 66 percent voting for the recreational marijuana legalization measure and the city remains the capital of the medical marijuana industry in the state.
"I want us to be in the driver's seat. I want us to be showing the state and the rest of the country how this is done right," Councilman Chris Nevitt said to 9News, when the City Council voted in favor of pursuing legal weed sales in Denver.
But not all council members were as supportive as Nevitt. Jeanne Faatz wanted the city to opt-out altogether and several other members said they wanted to continue the regulatory process but if an ordinance didn't address specific criteria they said they would reserve the right to vote against, according to The Denver Post. Judy Montero abstained from the vote Chris Herndon was absent.
Rather than a 9-month window for new marijuana businesses to open, which is the minimum required by the historic bills signed into law by Gov. John Hickenlooper in May, the draft document that Denver City Council put together says new businesses cannot apply for a license to sell recreational marijuana until Jan. 1, 2016. During that time, only existing medical marijuana dispensaries will be able to apply for the license which will allow them to sell both medical and recreational pot.
Pot clubs and cooperatives would be banned altogether, retail marijuana shops would be banned in residential areas and would have to be at least 1,000 feet from a school or any other existing marijuana dispensary, the draft document outlined.
Denver Mayor Michael Hancock, a vocal opponent of legal marijuana, says his administration will support a public hearing process on the proposed guidelines, KDVR reported.
"The more we restrict it, the safer our community will be," Hancock said.
Back in April, Hancock advised the Denver City Council to ban marijuana clubs in the city as well as create a two-year moratorium on new pot business licenses.
Although his administration has generally supported the recommendations of the marijuana Task Force, Hancock has made no secret of his opposition to marijuana and Amendment 64. Back in October, Westword reported that Hancock firmly believed that marijuana is a gateway drug, a dangerous substance and not comparable to alcohol, an argument that A64 backers Regulate Marijuana Like Alcohol used during their campaign for the legal weed amendment. Before A64 overwhelmingly passed in the state, Hancock said:
Let's just be clear: We're talking marijuana, so I'm not going to talk about the comparisons with alcohol. And they always want to do that. The reality is that we're talking about the legalization of marijuana.
Hancock added:
I do firmly believe it's a gateway drug. I also think it's the wrong message we want to send our children that it's okay for them to consume or use marijuana. We don't want to be the first state in this nation that legalizes marijuana. I believe we will lose our attractiveness to companies, employers who want to come to our state. Tourism is the number-one industry for the City of Denver, number two in the state of Colorado, and I believe that sector will be disproportionately harmed with the perception that Denver is the marijuana capital.
Colorado voters passed Amendment 64 last November making the limited sale, possession and growing of marijuana for recreational purposes legal for adults 21 and over. The Colorado Department of Revenue, the government body that will be overseeing the regulation of the state's marijuana industry, released a report last week detailing the rules of how recreational marijuana should be licensed, regulated and sold in Colorado.
The state department report sets very specific rules for recreational marijuana in Colorado from licensing to how a retail marijuana store should operate to how retail grow operations should function to marijuana testing to marketing and to labeling of marijuana products.
Labels must conform to the specific language requirements of the state including information on potency, amount of THC in the marijuana product, a clear set of instructions on how to properly use the product, a complete list of nonorganic pesticides, fungicides and herbicides used during cultivation and much more depending on the type of product which can range from marijuana buds for smoking, a marijuana-laced food or a THC-concentrate like a marijuana "wax."
Colorado adults, 21 and over, will be limited to purchasing up to an ounce of marijuana for recreational use from specialty licensed retail shops that can also sell pot-related items such as pipes and accessories. Coloradans can also grow up to six plants -- with only three flowering at a given time -- in their home for personal use. Adults can possess up to an ounce of marijuana legally.
Adult tourists in Colorado are limited to purchasing only a quarter of an ounce.
The state department also intends on setting up a seed-to-sale tracking system which will make all marijuana producers and sellers responsible for each plant produced and sold.
In May, Hickenlooper signed several historic measures to implement marijuana legalization in the state, establishing Colorado as the world's first legal, regulated and taxed marijuana market for adults.
BEFORE YOU GO
PHOTO GALLERY
16 Facts About Marijuana And The U.S. Economy