School may be out for summer, but that didn't stop Salma Hayek from whipping her "Grown Ups 2" co-stars into tip-top Spanish shape.
The Mexican actress took on the role of Spanish teacher during the cast's promotional visit to Univision's morning show "Despierta América" on Monday. While waving a wooden pointer and yelling "Attention" at a very rowdy classroom, a very strict Mrs. Hayek instructed actors David Spade, Kevin James, and Adam Sandler.
During the crash course, the actors learned to say simple phrases like "I want a very hot cup of coffee" to the more complicated Spanish tongue twister: "Tres tristes tigres tragaban trigo en un trigal..." (Say that 3x fast). But it was Sandler who took the gold star for pronunciation when he managed to say "Coatzacoalcos," the name of Hayek's hometown in Mexico.
How did they do? Salma didn't seem very impressed...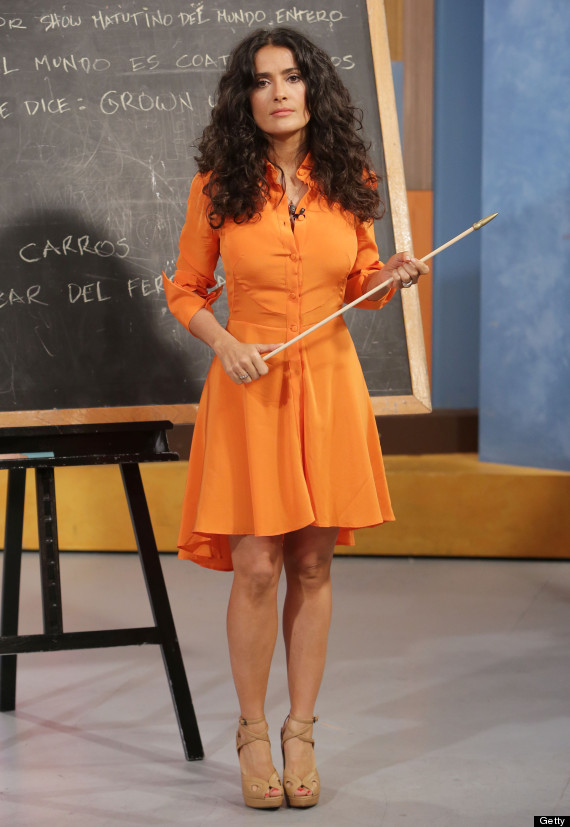 Check out the video of the "Grown Ups 2" cast above and let us know who Mrs. Hayek's best pupil was in the comments.
BEFORE YOU GO
PHOTO GALLERY
American Stars In "Despierta America'