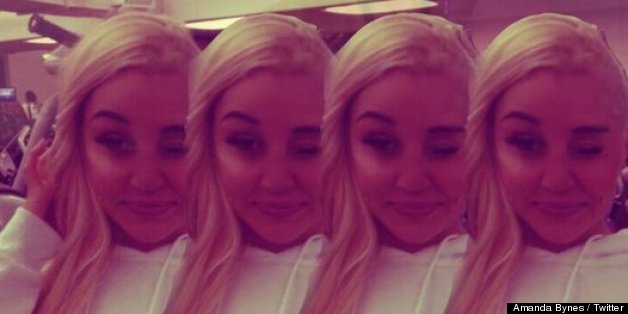 The Amanda Bynes buzz occasionally becomes white noise, although while she refuses to become totally irrelevant, "The Amanda Show" has taken on a whole new, completely terrifying meaning. As she tosses declarations of ugliness, bongs and possibly her career out the window, it's easy to lose track of the insanity. Here, for your edification, the definitive guide to her decline.
June, 2010
* The world descends into chaos as Amanda "quits acting."
July, 2010
* Finally able to rest after decades of theatrical work, Amanda takes up tweeting full time. New Yorkers respond in bewilderment:
* Just one month after her shocking announcement, Amanda "unretires". The industry sighs with relief.
September, 2010
* A hush falls over the Internet, as Amanda quits Twitter.
January, 2011
* Amanda un-quits Twitter.
March, 2012
* Pulled over for talking on her phone, Amanda flees the scene ... right after handing a cop all her information.
* Amanda is spotted stumbling out of Greystone Manor on St. Patrick's day, and a TMZ camera man warns the valet not to let her drive, before she speeds off.
April, 2012
* Confirming her status as a threat to public safety, Amanda is arrested for a DUI.
May, 2012
* Amanda commits her very first hit-and run, colliding with a BMW in the San Fernando Valley.
* In yet another car accident, Amanda sideswipes a pick-up truck in her Range Rover, and flees to a gas station. The LAPD chases Amanda down with a helicopter, but decides not to charge her with a hit-and-run.
June, 2012
* Amanda solicits Obama's help in dealing with her DUI: "Hey @BarackObama ... I don't drink. Please fire the cop who arrested me. I also don't hit and run. The end."
August, 2012
* After hitting a Toyota Corolla, Amanda proves flighty once more. Although, this time driver didn't recognize her because she "looked like a hot mess."
* Amanda deletes her tweets from the Internet, is unable to delete them from our minds.
* Another day, another major vehicular incident. Amanda is rear-ended (and possibly not to blame), but E! wonders if maybe it's time to hire a driver...
September, 2012
* Safety returns to the road, when Amanda's license is suspended as a result of her aforementioned hit-and-runs.
* Amanda disregards her suspension, and is pulled over for driving without her headlights off. The cops let her off with a warning.
* Lindsey Lohan questions Amanda's behavior, asking the question on America's (but mostly LA drivers') minds: "Why did I get put in jail and a nickelodeon star has had NO punishment(s) so far?"
January, 2013
February, 2013
* Bizarre behavior resurfaces as neighbors report Amanda's satanic interior decorating. She is spotted walking down to the lobby at 2 a.m. and just "laughing hysterically for four minutes."
* Amanda begins to obsess over Drake, tweeting his songs and a possible explanation for her admiration: "Drake (@drakkardnoir) is half Jewish just like me...word!"
March, 2013
* Two words: Vagina Murder
I want @drake to murder my vagina

— amanda bynes (@amandabynes) March 22, 2013
April, 2013
* Amanda is, um, "Sucking On A Sour Patch Kid Listening To Music Getting Ready For Tonight :D"
*...and shaving half her head.
I buzzed half my head like @cassie! No more old photos! This is the new me! I love it!
http://t.co/vOHgaIhs24

— amanda bynes (@amandabynes) April 25, 2013
May, 2013
* Caught smoking in her apartment, Amanda allegedly throws her bong "just a vase" out the window.
* The court receives a first taste of Amanda's growing wig collection. She claims she the cops sexually harassed her: "He slapped my vagina."
I need Nicki Minaj's wig person stat! :P

— amanda bynes (@amandabynes) May 25, 2013
* Amanda calls Rihanna ugly, tweeting, "@rihanna you look so ugly tryin to be white" and "@rihanna Chris brown beat you because you're not pretty enough." Riri shoots back the best response ever: "Ya see what happens when they cancel intervention?"
* After trying to use Google as a passport, Amanda is kicked off a flight to LA.
* Some brave citizens reach out of the insanity and publish this PSA, asking, you to please stop caring about Amanda Bynes: "Do you think the Syrian Rebels have seen 'She's The Man'?"
June, 2013
* Amanda gets surgery to remove that pesky webbing between her eyes.
I was born with a webbing in between my eyes. That was a birth defect that I had surgically removed! I've never been more excited! Now I...

— amanda bynes (@amandabynes) June 20, 2013
July, 2013
* Losing hope that the White House will help remove her DUI, Amanda adds Barack and Michelle Obama to the ugly list.
* Amanda heads to Manhattan criminal court in a blue wig. The media realizes this is actually pretty boring behavior for Amanda.
* Amanda can't breathe, but is definitively able to tweet. A surgeon broke her nose, claims Amanda.
This post will be updated with the future shenanigans that can only be expected. Stay ugly, everybody!
BEFORE YOU GO
PHOTO GALLERY
Amanda Bynes Through the Years