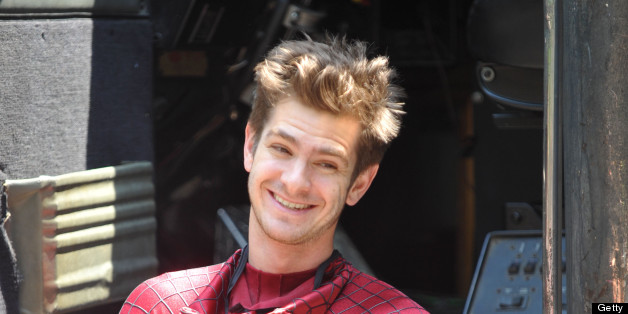 Back in 2010, before Andrew Garfield was cast as Spider-Man in "The Amazing Spider-Man," the comic book's fans debated whether Donald Glover could star as the friendly neighborhood webslinger. Glover, an African-American multi-hyphenate (actor, comic, rapper) memorably started the #donald4spiderman campaign after io9 commenters suggested him for the role. (Writer Marc Bernadin acted as the Billy Joel in this story, starting the proverbial fire with his io9 piece "The last thing Spider-Man should be is another white guy.")
Glover, of course, didn't get the role (he, however, was given a shout-out in "The Amazing Spider-Man"), but the groundswell of support the actor received showed that audiences are starved for superheroes who break the traditional mold. Which perhaps is why the current Spider-Man has made the suggestion that Peter Parker may be gay.
In an interview with Entertainment Weekly's EW.com, Garfield offered that the initials "MJ" -- short for Parker's future love Mary Jane -- don't necessarily have to represent Mary Jane.
"I was kind of joking, but kind of not joking about MJ," he said. "And I was like, 'What if MJ is a dude?' Why can't we discover that Peter is exploring his sexuality? It's hardly even groundbreaking! [...] So why can't he be gay? Why can't he be into boys?"
That Garfield would support a gay Spider-Man is hardly surprising; the actor was very vocal in his support for same-sex marriage. "Of course I'm in favor of marriage equality. Same-sex couples should have the same rights as anybody else," Garfield told The Times of London. "There is no argument against equality."
As it turns out, however, Peter Parker will remain straight in the current series of Spider-Man films. Sony had cast Shailene Woodley as Mary Jane, but her performance was cut out of "The Amazing Spider-Man 2" and the character might get recast for the third and fourth films.
Despite that, Garfield has one great casting suggestion for who would play the male version of MJ. Head to EW.com to find out which actor Garfield had in mind and what director Marc Webb thinks of the actor's suggestion.
PHOTO GALLERY
Celebrity News & Photos