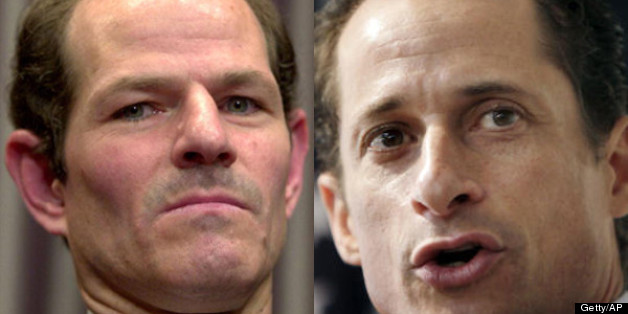 As New Yorkers contemplate just how much scandal they can excuse from a candidate's past, a majority of Americans say that it is equally bad for a public official to use a prostitution service as it is to send women illicit photos online, according to a new HuffPost/YouGov poll.
Among those who made a choice, a 16 percent to 13 percent margin of respondents said the use of a prostitution service is worse than sharing revealing images.
But the results suggest that voters may be slightly more willing to forgive and forget for a candidate whose offenses were committed further in the past.
Thirty-five percent of respondents said that they definitely would not vote for a candidate who had once resigned from another office two years ago after admitting to sending illicit photos to women online, as Democratic mayoral candidate Anthony Weiner did in 2011.
Only 27 percent said that a candidate resigning from a prior office five years ago after admitting to using a prostitution service -- like comptroller hopeful Eliot Spitzer -- would definitely not earn their vote.
Eleven percent of respondents, when asked which they thought was worse, said they did not have a problem with either misdeed, the poll found.
Asked which is the worst offense for a public official -- sending illicit photos, using a prostitution service, or accepting bribes -- 72 percent of respondents said that bribery is the most reprehensible. Sending illicit photos and using a prostitution service each received seven percent of the tally for worst offense with bribery thrown into the mix.
The HuffPost/YouGov poll was conducted July 8-9 among 1,000 adults using a sample selected from YouGov's opt-in online panel to match the demographics and other characteristics of the adult U.S. population. Factors considered include age, race, gender, education, employment, income, marital status, number of children, voter registration, time and location of Internet access, interest in politics, religion and church attendance.
The Huffington Post has teamed up with YouGov to conduct daily opinion polls. You can learn more about this project and take part in YouGov's nationally representative opinion polling.
BEFORE YOU GO
PHOTO GALLERY
Politicians Who Wanted A Second Chance