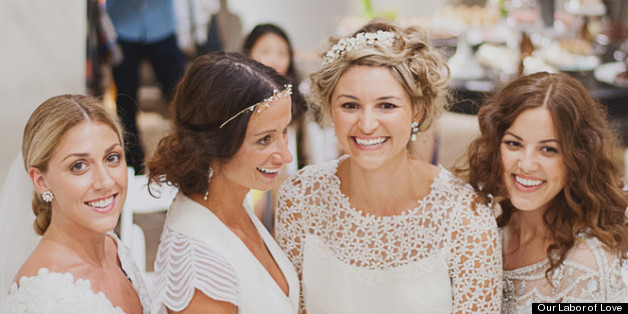 For many brides, the thought of heading to a big salon filled with enormous white gowns and stylists ready to clamp you into a strapless princess dress is, frankly, a nightmare. The pressure to find "the one" -- coupled with months and months of fittings and alterations -- is just not what every woman wants. That's where Anthropologie's relaxed, boho-chic bridal brand, BHLDN, comes in.
The laid-back label has been around for two years, but their only brick-and-mortar locations are in Houston and Chicago (most of their business is done online). So when HuffPost Weddings heard the brand was opening a "shop-in-shop" on the west coast -- a boutique housed inside Anthropologie's Beverly Hills store -- we had to experience the place for ourselves.
The boutique officially opened its doors Wednesday, July 11, and stylists will take their first bridal appointments on Thursday, but I got to sneak in on Tuesday afternoon for a mock appointment (I know, being the editor of HuffPost Weddings is a tough job).
I arrived at Anthropologie and found most of the BHLDN staff engrossed in final preparations for their big opening. My cheerful stylist, Summer, pulled a few long, formal wedding dresses and a couple of shorter options for me before escorting me to Anthropologie's fitting room (there are a handful of rooms reserved for BHLDN brides). There, she helped me step into my first look and explained that the shop carries gowns in street sizes four and 10 (not typical bridal sizes), so she'd have to clip my dress in the back to give me a sense of what it would look like in my size.
Donning my first gown, I sashayed out to the center of the fitting room where several BHLDN staff lounged on vintage sofas. They "oohed" and "aahed" as I stood on a platform in front of a three-way mirror, twisting and turning to get a look at myself as a BHLDN bride (too bad the brand didn't exist when I tied the knot three years ago!) and cheering me on like a real bridal party.
I asked Nicole Sewall, BHLDN's managing director (and one of my faux bridesmaids), why the brand decided to open a shop-in-shop:
"When we started BHLDN, something we really wanted to do was make bridal accessible, and make it feel like a comfortable experience," she explained. "We've done a handful of trunk shows in Anthropologies and we've always loved having a bride in the fitting room, and that audience that was created with customers shopping. It always felt like a warm, wonderful experience, and didn't feel like a stuffy, fussy, rigid bridal experience."
Sewall said the BHLDN bride is "confident" and "casually elegant." And Callie Canfield, the brand's marketing and communications director, described her as "a bride you want to be friends with."
Though I'm no longer a bride, I did have an amazing time playing pretend. I'd recommend the shop-in-shop experience to any bride who's not afraid to share her dress-shopping experience with a few strangers, and one who wants the experience to feel special, but just as comfortable as shopping for regular clothes.
The experience is certainly not for everyone: There are many women who want the traditional salon experience -- the champagne, the pedestal, the mountains of gorgeous satin and tulle -- and that's just fine. At BHLDN in LA, you'll have a one-on-one stylist who will help you through the gown shopping process from beginning to end. She'll suggest accessories and shoes, and she'll pull dresses that she thinks you might like, but that's where the similarities end. You'll be surrounded by everyday shoppers and you'll be dressing inside an ordinary Anthropologie fitting room. If you want the bridal experience you've seen on TV and in movies, the "shop-in-shop" experience probably won't cut it. (And if you're looking for a traditional salon experience, but still want a more nontraditional gown, we recommend Lovely Bridal in West Hollywood).
Los Angeles brides: Will you be stopping by BHLDN? Tell us in the comments!
Click through the slideshow below to see photos of the Los Angeles boutique, and the author in a couple of BHLDN gowns.
PHOTO GALLERY
BHLDN's LA Shop-In-Shop
Keep in touch! Check out HuffPost Weddings on Facebook, Twitter and Pinterest.