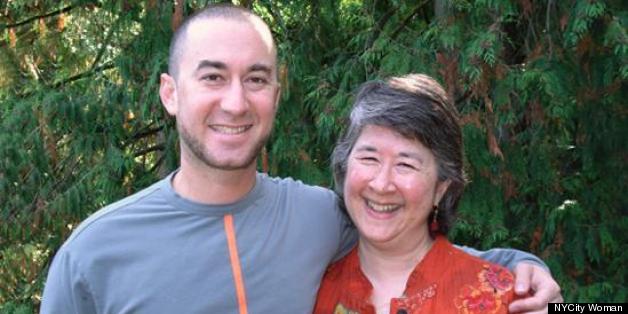 SPECIAL FROM NYCity Woman
Toy Dupree, 66, recently found the son she had given up for adoption when she was 21.
Toy Dupree, 66, is a well-known baker, co-author of the best-selling recipe book, "Amy's Bread," and a widow. She is also a birthmother who gave up her only child for adoption when she was a college senior in Texas. Five years ago she located her son, Derek, and since then they've truly bonded, celebrate holidays together, and communicate regularly. "I know how very lucky I am," Toy relates emotionally; as we sit in the back room of the bakery in Hell's Kitchen where she has worked for the past twenty years. "I feel awed and blessed that my search turned out the way it has." Derek, now 45, lives in the Pacific Northwest part of the country with his wife Laura and their children, Max and Alice. Toy recently moved to the area to be closer to him and her newly found grandchildren.
"I was 21 when I became pregnant," Toy relates. "The baby's father was a fellow student. We had no interest in getting married and I did not feel capable of supporting a child at that time of my life. Since the baby was due around Christmas, I told my parents I was too busy to come home for the holidays. Instead I headed to an adoption agency in Houston that arranged for births and adoptive placements. I never even saw the baby because people at the agency said that would be better. I also knew that I wouldn't be able to let him go if I did."
After guarding her son's existence for most of her life, Toy now feels relief and wonder in being able to share her secret. Up until recent times, reunions between a birthmother and a child she relinquished for adoption were rare; secrecy was the cornerstone of adoption. Typically, an unwed young woman who became pregnant would be sent away to deliver the baby, encouraged to give the child up for adoption, and advised to forget the experience and get on with her life. And so it was with Toy.
Toy's comfort with adoption as a plan for her child stemmed from the fact that she herself was an adopted child and enjoyed a good life with her parents and two brothers—the older of whom was also adopted. And she didn't want her parents to learn about the pregnancy. "I was trying to protect them from a shame they didn't deserve," she says, adding, "…and of course I was protecting myself because of the stigma, the fear that I'd be rejected by them. For someone who is adopted, rejection is anathema." Sealed records reinforced the idea that there was something to hide.
Toy threw herself into marriage and work. After twenty years in the corporate world of advertising and marketing, she attended culinary school, graduating with highest honors, then co-founded Amy's Bread, where she served as executive pastry chef and manager. She also taught bread-baking classes. The hours were long, the challenges demanding, and that suited her fine—especially after losing her husband, Richard Dupree, to brain cancer eight years ago. (Richard was the only one she told about the baby.) "My husband was my shield," Toy says, "and when my shield died, suddenly I did not know what to do. I was getting physically ill and I knew that my emotional blocks were the cause." Work had always been her way of coping. This time it was not enough.
"I am not a person who can ask for help easily," Toy says, "but I found a wonderful therapist who helped me understand that I couldn't deal with my grief over my husband's dying because I hadn't yet dealt with my grief over having been taken away from my own birthmother. I also hadn't yet grieved the loss of my son. Once I understood that there is a physical and spiritual connection between a woman and the child she is carrying and that  emotional repercussions occur when the two are separated, I realized that my own son had likely experienced a similar type of trauma.  I wanted to find him, to at least give him some closure in realizing that his birthmother did care. An ongoing relationship between us would either happen or not, but at least he would have that connection." Still, she wavered about starting to search. "I was afraid of what would happen if I found my son. Would I open up a Pandora's box?" 
Toy joined a birthmothers' support group in Manhattan, where she met women who understood and shared many of her feelings and fears. (She went on to lead the group, whose support was so important.) "I was letting a piece of myself come out of the closet, and it was very scary," Toy says. "If I was successful in finding my son, I would have to reveal his existence to everyone—my family and my wonderful and warm coworkers at the bakery. I didn't know how people would react. In fact, I found that everyone was friendlier and more compassionate than I could have imagined. My coworkers were happy for me. My mother, who was in her nineties, told me, 'You know, your father and I had agreed that if you ever did get pregnant we would take the baby and raise it until you were ready.' She felt sad that I hadn't felt safe enough to confide in her."
Toy's actual search was not difficult. When she inquired at the adoption agency, she learned that her son's parents had contacted the agency every time they moved to make sure their current address was on file in case his birthmother ever looked for him. But she still needed the encouragement of her support group to use the information. "I was terrified that my son might not like me," Toy says. After about a year of exchanging email messages and photographs, she flew out to see him for the very first time. "He welcomed me with open arms." 
If Toy says this with a sense of awe, it's because she knows that many reunions are not happy, including her experience when she located her own birthmother four years ago. "She's in her eighties, married (not to my birthfather, although her husband knows of my existence), and has four children, so I have four half-siblings who do not know about me. She and I communicated through writing, and we exchanged pictures. We've never even spoken on the phone. I did try to convince her. I told her how liberating it was for me to be able to tell the secret that I'd held all my life, but she was not moved."
Toy dwells instead on the positive, describing last Christmas: "Everyone got together—my son and his family and my brothers and their families and there was so much joy and laughter and sharing and amazement. Everyone loved being together; we all felt enriched by the experience. Even my grand dog Sophie joined us. She fit right in with the whole kit and caboodle." 
Reason enough for a cross-country move. 
Claire Berman has written nine books on such topics as caregiving, divorce, step parenting, and adoption. She was a contributing editor at New York and has written for The New York Times Magazine, Parade, Reader's Digest, and other national magazines.
You might also enjoy the following story here.