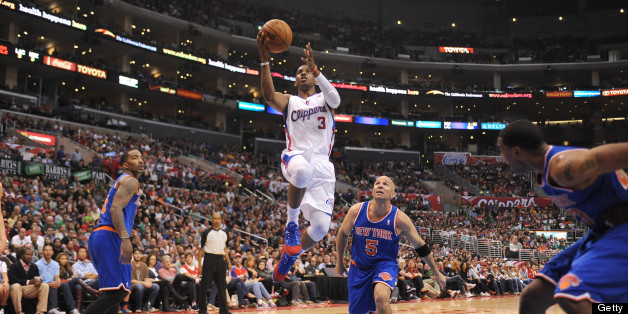 Chris Paul was supposed to be the next great Los Angeles Laker. Of course, it all seems so long ago now, but Paul's trade was blocked by the NBA, and he was eventually dealt from New Orleans to the Clippers. Two years into his tenure, he has brought the organization to a new pinnacle of success and relevance. Now, Paul's agreement to sign a mega, five-year, $107-million contract extension to remain in LA with the team effectively makes him the Clippers' first "it" guy in franchise history.
Paul's new deal signals a trend to the rest of the league that for the first time ever, Donald Sterling's team is not merely the ugly stepbrother to the Lakers. The Los Angeles Clippers have never featured a superstar, and they've never been relevant. Since moving to LA in 1984, they have been to the postseason a mere six times. Two of those six times were with Paul running the point, while the Clips swept the Lakers last year for the first time.
Now, the combination of Paul and Blake Griffin creating more batches of "Lob City" coincidentally comes during one of the most fractured and vulnerable times in Lakers history. On the heels of the Lakers' first first-round playoff sweep in over four decades, Dwight Howard is gone, and a 34-year-old Kobe Bryant is coming back from a torn Achilles. The Clippers now feature one of the game's most respected head coaches in Doc Rivers, while the Lakers still have Mike D'Antoni -- a name synonymous with question marks and criticism.
As one LA resident recently told me, "Living here as a Clipper fan has been an embarrassment for so long. All of a sudden, it's not. That is a weird feeling."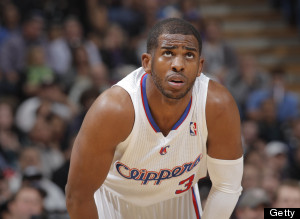 Paul has led the Clips to the postseason both years with the team, equaling 33 percent of the Clippers' playoff appearances since moving to LA in 1984. (Getty Images)
"Weird" may be the best words to describe what Paul's decision to remain in the red, white and blue actually means and represents. The history of the Clippers is muddled in such dysfunction and mediocrity that it can be hard to quantify. Their history of busted draft picks, absurd trades and a sheer inability to re-sign any players of note brings us back to Sterling, whom you can almost imagine being secretly laughed at during owners' meetings in New York as the outlier amid 29 other multimillionaires and billionaires.
But Paul, a dazzling talent and basketball maestro, has changed the entire fate and tenor of this franchise. He's a true genius with the basketball, and just the type of All-NBA talent who can lure marquee free agents to the "other" LA team. According to BasketballReference.com, he has the second-highest player efficiency rating ever through a player's first eight seasons in the NBA -- two points higher than Magic Johnson. His sinuous drives to the hoops coupled with an array of teardrop runners and Magic-esque passes have, in turn, made the Clippers more "Showtime" than the Lakers.
"It's pretty cool to know where you're going to be and to know you're somewhere where you're wanted," he told ESPNLosAngeles.com.
To be sure, had Paul signed with a more well-regarded and historically relevant team, he still would have been a Hall of Famer and arguably the best lead guard of this generation. But by staying put with the Clippers, he can enhance both his brand and overall image as a loyalist who stays true. Remember that just 10 years ago, he was a McDonald's All-American with a scholarship offer from North Carolina, yet decided to attend Wake Forest in his hometown of Winston-Salem. Paul is that type of guy.
While Los Angeles offers a spate of sponsorship opportunities, those opportunities are normally reserved for Lakers stars. CP3 not only re-signed with the Clips, but his no-nonsense approach is the antithesis of the publicity stunt pulled by Dwight Howard. He is clearly a winner off the court, and pretty soon, he may even pull off his greatest Houdini-like trick: Winning a championship for the Clippers.
Email me at jordan.schultz@huffingtonpost.com or ask me questions about anything sports-related at @Schultz_Report. Also, be sure and catch my NBC Sports Radio show, Kup and Schultz, which airs Sunday mornings from 9-12 ET, right here.