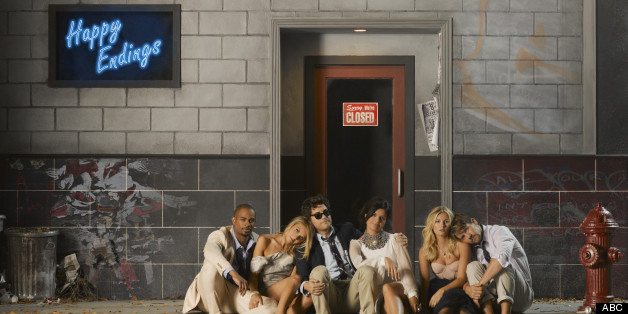 Losing "Happy Endings" totes sooks. But in the complicated world of television, this may not be the end.
When ABC pulled the plug on "Happy Endings" after three seasons and lots of scheduling moves, USA Network emerged as a frontrunner to save the beloved comedy. But when that fell through, Sony tried to find the show a new home. Sadly, that was unsuccessful as well. "We don't know the specifics; that's all sort of above our pay grade. But there were ongoing talks with a lot of places. It just didn't work out," "Happy Endings" creator David Caspe told TVLine. "The truth is, how many shows have moved networks ever? It's very difficult to do, and there's probably some financial algorithmic reason for that that I don't even understand."
While canceled shows usually don't move networks -- it's only been done a handful of times with shows like "Cougar Town," "Friday Night Lights" and "Damages" -- some do get a revival down the line. Fox brought "Family Guy" back to life, Comedy Central revived "Futurama," Joss Whedon's "Firefly" headed to the big screen with "Serenity," and of course, there's the recent "Arrested Development" Season 4 on Netflix and the "Veronica Mars" movie currently in production.
"I would never say never to anything," Caspe told TVLine when asked about a reunion of sorts a la "Arrested Development. "We would always be open to talking about it. But the only way to move on is to move on. We have other stuff that we've gotta do. Who knows? I'm sure when they moved on from 'Arrested Development' they never imagined that seven years later they would do it again. If you're thinking that it's gonna happen as a writer, you're not focusing on the new stuff you have to work on. None of us would ever close the door, but I can't really spend too much time hoping for that."
"Happy Endings" followed six friends: Penny (Casey Wilson), Dave (Zachary Knighton), Alex (Elisha Cuthbert), Jane (Eliza Coupe), Max (Adam Pally) and Brad (Damon Wayans Jr.). Executive producer Jonathan Groff told TVLine he thinks part of the show's legacy will be how it handled topics like race and sexual orientation.
"I really liked the comfort and matter-of-factness with which Max's sexual orientation was [handled]," he said about the gay character Pally played. "I thought he was an interesting character that I hadn't seen before. I loved the ease with which his sexuality was just part of the basic facts of the group. I also really liked the way that race was handled easily in the group. I'm proud of that."
Want to know what you missed out on when "Happy Endings" was canceled? Writer Jason Berger recently tweeted a bunch of rejected jokes from the show.
Click here to read more from Caspe and Groff about the end of "Happy Endings" and where the show could've gone in Season 4.
Do you want to see "Happy Endings" revived down the line? Tell us in the comments below.
PHOTO GALLERY
'Happy Endings' Season 3