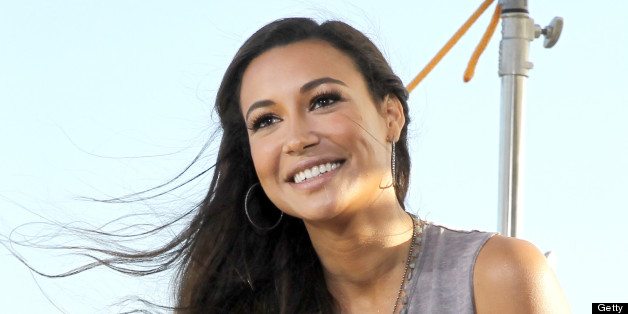 These days, our knowledge of celebrities too often originates with paparazzi images and snarky quotes by anonymous "insiders." After a while, it's easy to forget that stars are real people. That's why HuffPost Celebrity decided to launch its all-new #nofilter quick-fire question-and-answer series. Because how well do you know someone until they've shared their guiltiest pleasures?
Naya Rivera, best known as sassy fan-favorite Santana on "Glee," just scored a new gig as host of Bud Light Music First's 50/50/1, a nationwide event that will feature one concert in each of the 50 states on Aug. 1. In honor of the series, Rivera spoke with us about her own musical preferences, her ideal drinking buddy and the time she met her most devoted admirer.
Why did you want to host the Bud Light 50/50/1 concert?
When they asked me to host it, it was basically a no-brainer. Music plays a really big part in my life. I sing, I dance and I act for a living, so it just seems like a natural fit. And I really liked the idea of putting on 50 shows in 50 states on the same day. It seemed like something that had never been done before and a big undertaking, and I wanted to be a part of something that's history-making.
Which show are you most excited about?
I'm probably most excited about the Miguel show, which is the one I get to go to.
You're working on a music album. What can we expect?
Hopefully, you can expect it to be good. I mean, I hope everyone will like it. I've been working really hard on it and there's some good tracks on there. We've got some good features and, I think, some really good lyrics. I would describe it as R&B, rhythmic pop. It's just really feel-good. It's kind of got a '90s feel to it, so that's kind of cool and unique.
What's the last song you downloaded?
I'm newly introduced to Spotify, so I can just type in any song i want to hear and it comes up, which is pretty amazing. I went back and typed in Wiz Khalifa and wanted to listen to all of his old songs.
Who's your ideal drinking buddy, living or dead?
Maybe Billie Holiday. Just sit down and have a really nice scotch with her, you know?
Bud Light aside, what's your drink of choice?
I like dark liquor, so a Manhattan or an Old-Fashioned is always where I'm at.
Any crazy encounters with "Glee" fans?
We have the best fan base ever. I feel like they would do anything for us. But I will say, I was very taken aback when I met a girl in Manchester when we were on tour who told me that she had my name tattooed on her stomach. And I went outside and had to find her in the crowd because I had to see it to believe it, and sure enough she got my name tattooed on her stomach. And I guess it worked, because I cannot stop telling this story.
How much time do you spend on Twitter?
I love Twitter, and Instagram. It's become a form of getting the news. I like to go on there and see what all my friends are up to.
What's your guiltiest pleasure?
Reality television.
Any shows in particular?
All of the "Housewives," "Keeping Up With the Kardashians," "Married to Medicine." You name it and I probably watch it.
What's one movie you could watch over and over?
"Old School," or "Clueless."
What's your dating deal-breaker?
If you don't have respect for each other, then you shouldn't be dating.
What's one thing from your childhood wardrobe that you wish you could wear now?
I'd like to think that I wear most of the things I used to wear from my childhood. I've got a pretty flouncy skirt on right now and I definitely have been known to rock overalls. I think I just make it a little more age-appropriate now.
What's the dumbest thing you've read about yourself?
Sometimes people tweet us girls that they think we're pregnant. They always think we're pregnant!
What's your secret/hidden talent?
I have a pretty good arm. I used to play softball, and I was recently at the park throwing a football with my friends and they were like, "You can really throw!"
If you could give advice to a younger version of yourself, what would it be?
I would tell myself not to stress out and worry so much and just know that everything is always going to be fine.
BEFORE YOU GO
PHOTO GALLERY
They said WHAT? #nofilter