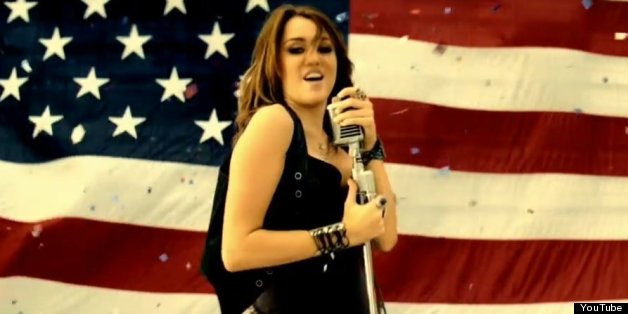 Fresh off the record-breaking debut of her music video for "We Can't Stop," pop princess Miley Cyrus now has 766 more reasons to rejoice.
That's the number of people who have so far signed a petition asking that her song "Party in the U.S.A." become the new national anthem.
Posted to the White House's "We the People" site two days before Independence Day, the petition reads, "Obama please make Miley Cyrus' "Party in the USA" our national anthem. It is what is best for this country."
To paraphrase a succinct summary from Mashable's Brian Anthony Hernandez, "Party In The U.S.A.," which has been watched over 342 million times on YouTube, is the energetic tale of a young Jay-Z and Britney Spears fan who moves to Los Angeles. It's the American Dream, wrapped in bedazzled, American flag Daisy Duke shorts.
Despite the song's undeniable commercial success, it's probably not time for Francis Scott Key fans to worry just yet. In order for this pipe dream to become reality -- or even simply elicit a response from President Barack Obama -- 99,234 more party people will have to sign the online petition before Aug. 1.
A similar petition posted in March requesting R. Kelly's "Ignition (Remix)" be named the new national anthem did not elicit an official response from White House officials.
The ever-colorful Snoop Lion previously told The Huffington Post that if he had to pick one song to become the new national anthem, it would be "Young, Wild and Free." He then proceeded to sing some of the lyrics, which celebrate getting drunk and using drugs.
Listen to Miley Cyrus' "Party In The U.S.A." in the video below: