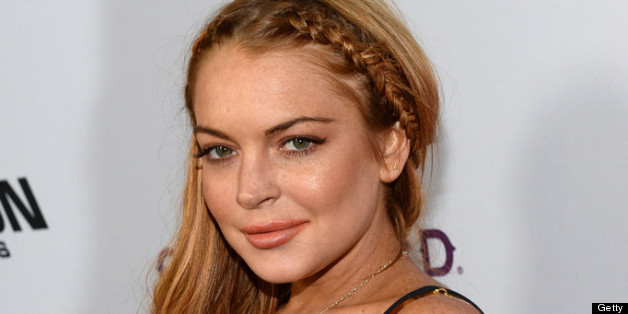 Lindsay Lohan might be a lot of things -- like "troubled," "tormented" and a "train wreck" -- but director Paul Schrader believes she has an undeniable spark that keeps people coming back for more.
In a piece written for the latest issue of Film Comment, Schrader describes what it was like to work with Lohan on the set of his psycho-sexual thriller, "The Canyons." Although the 27-year-old might have a penchant for "[t]ardiness, unpredictability, tantrums, absences, neediness, psychodrama" just like her icon, Marilyn Monroe, he believes she still has raw talent and charisma. Her personal struggles might outshine her professional successes, but even that tumultuousness continues to enthrall.
Writes Schrader:
Monroe and Lohan exist in the space between actors and celebrities, people whose professional and personal performances are more or less indistinguishable. Entertainers understand the distinction. To be successful, a performer controls the balance between the professional and personal, that is, he or she makes it seem like the professional is personal. It is the lack of this control that gives performers like Monroe and Lohan (and others) their unique attraction. We sense that the actress is not performing, that we are watching life itself. We call them "troubled," "tormented," "train wrecks" -- but we can't turn away. We can't stop watching. They get under our skin in a way that controlled performers can't.
Schrader notes that even as she clumsily navigates through the world of celebrity and sometimes barely stays afloat, Lohan has a "sweetness that makes the hard shell vibrate," and he acknowledged that "it was a treat to work with Lindsay" despite "[a]ll the drama, the mishegas, all the stress," concluding that "[a] director can shoot around misbehavior. He can't shoot around lack of charisma. I just wish it was easier for Lindsay."
Back in January, Stephen Rodrick wrote a profile of Lohan for The New York Times Magazine. It focused on her role in Schrader's flick and, again, proposed a parallel between the fiery redhead and her blond predecessor. Drama is one thing that he said links them, another is Lohan's apparent inching toward a downfall.
"You can't argue that Lindsay has the talent or resume of Monroe, but there is that same feeling of talent slipping away, perhaps permanently," Rodrick said in a follow-up interview about his profile of Lohan.
It remains unclear whether the former "Mean Girls" star can revitalize her career after her most recent stint in rehab. The world premiere of "The Canyons" is set for July 29 at the Film Society of Lincoln Center in New York City, according to The Hollywood Reporter. It will hit theaters in New York Aug. 2 and in Los Angeles Aug. 9. The international premiere will go down at the Venice Film Festival.
BEFORE YOU GO
PHOTO GALLERY
Lindsay Lohan