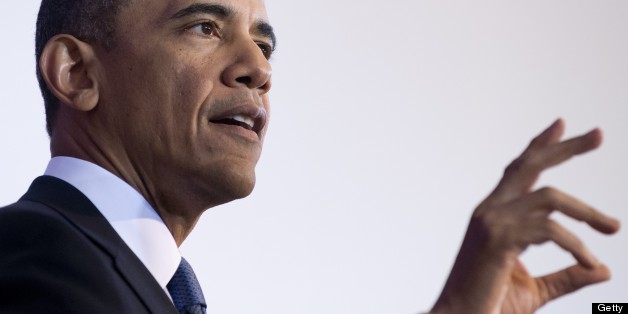 Quinnipiac finds a "massive shift" on attitudes toward civil liberties and anti-terror efforts...but the context of their latest question appears to be different. Canadian researcher weighs in on the challenges of pre-election polls. And you want poll numbers on broccoli? We got 'em. This is the HuffPost Pollster update for Wednesday, July 10, 2013.
QUINNIPIAC POLL FINDS SHIFT ON PRIVACY VS. COUNTER-TERRORISM - Quinnipiac release: "In a massive shift in attitudes, voters say 45 - 40 percent the government's anti-terrorism efforts go too far restricting civil liberties, a reversal from a January 14, 2010, survey by the independent Quinnipiac University when voters said 63 - 25 percent that such activities didn't go far enough to adequately protect the country...Some of the largest growth in those concerned about the threat to civil liberties is among men and Republicans, groups historically more likely to be supportive of governmental anti- terrorism efforts." [Quinnipiac]
A 'meaningful shift' - Nate Silver summarizes reasons to take the shift measured by the Quinnipiac seriously: "First, the magnitude of the change was considerably larger than the margin of error in the poll. Second, the poll applied exactly the same question wording in both 2010 and 2013, making a direct comparison more reliable. Third, this was a well-constructed survey question, describing both the benefit (protecting the country) and the cost (restricting civil liberties) of antiterrorism programs in a balanced way." [NYTimes]
Or perhaps not - AP polling director Jennifer Agiesta: "Missing some important context, the 2010 Quinnipiac poll was conducted days after the Xmas '09 airplane bombing attempt." [@jennagiesta]
Remember order effects - Another likely difference in context: The three questions Quinnipiac asked on their 2010 survey just before the anti-terror-vs-civil liberties question primed the specter of terrorist threats against the U.S.: "How likely do you think it is that in the near future there will be a terrorist attack in the United States causing large numbers of lives to be lost? Very likely, somewhat likely, not very likely, or not likely at all?...When it comes to dealing with people suspected of involvement in terrorist attacks against the United States, which would you prefer: trying them in open criminal court with a jury and a civilian judge or trying them in a closed military court with a military judge?...Should president Obama close the Guantanamo Bay prison?" Quinnipiac has not yet released the text of questions that preceded their anti-terror vs civil liberties question on the new survey. [Quinnipiac]
Snowden not a 'traitor' -- The Quinnipiac poll also found that a majority characterized former NSA contractor Edward Snowden as a "whistleblower" (55 percent) rather than a "traitor" (34 percent). HuffPost: "Nevertheless, other recent surveys have shown that more Americans disapprove than approve of Snowden's actions. A HuffPost/YouGov poll found that 38 percent of Americans thought Snowden had done the wrong thing in leaking the documents, while 33 percent condoned his actions. Twenty-nine percent were unsure. A CNN poll released on June 17 showed that 52 percent disagreed with his actions, and 44 percent agreed." [HuffPost]
WARNING LABEL ON 2016 POLLS - Political scientist Jonathan Bernstein returns to a familiar theme ("Ignore Those Polls!") in a new Washington Post blog entry: "Yes, Marco Rubio has taken a hit in the polls among Republicans. And yes, it's probably properly attributed to his leadership on immigration reform." But these results are misleading: "The whole point of the 'invisible' primary is that it takes place mainly among a relatively small group of people. Not too small — activists matter, and there are thousands of those, and there are plenty of campaign and governing professionals, formal party officials and operatives, and even politicians. But voters are really not engaged at this point...About the only useful thing about this kind of early polling is entirely circular. If party actors believe in it, then it might influence what they do, which may eventually affect what the nomination electorate will do. So there's that. But as far as meaning anything real ... no, I don't think these early polls really tell us much." [WaPost]
A CANADIAN PERSPECTIVE ON THE 'PROBLEM WITH POLITICAL POLLING' - Canadian market researcher and political consultant Brian Singh offers an in-depth (7200 word) opinion piece on the challenges facing pre-election polls, inspired by the recent polling misfires in Canadian provincial elections in Alberta and British Columbia. Singh reviews the full gamut of issues facing pollsters, but begins by explaining that his inquiry began with the realization that it is "useless to consider an entire electorate when turnout was projected to be low." More accurately sampling likely voters: "There is a consistent misalignment of voter intentions and voter turnout. In most cases, answering a poll is not akin to actually voting. Polling exposes social desirability bias – I say I vote because it is the right thing to say, even if I don't actually vote...Saying you want change and voting for change are independent events. This was evident in all of these "surprise" results. In my opinion, the real metrics that matter relate to the committed/intending voter. These are poll respondents who have a history of voting (themselves and in their family tradition) and intending to vote on Election Day. In my analysis of polls from these "surprise" results, while it may result in a small respondent base with a higher margin of error, this number was a better predictor of voter turnout. Observing this metric within the content of the BC and Alberta elections, there were warning signs that things turned for the eventual winner earlier than what most pollsters believed." [MRIA]
A LOOK AT THE NUMBERS BEHIND IMMIGRATION REFORM - Elise Foley and Aaron Bycoffe: "As the immigration reform debate begins in earnest in the House, one of the biggest issues is the math....HuffPost will be tracking support as the debate goes on. The following count is based on the combined intelligence of several immigration groups and informed House staffers, along with a look at lawmakers' past votes, public statements and district demographics. It maps out which House members will either support immigration reform or, at the very least, remain quiet on it. If Boehner refuses, as he has said he will, to pass the bill without a majority of Republicans, below are the politicians reformers will try to win over, including some skeptical Democrats and those likely entrenched on either side." [HuffPost infographic]
EVERYTHING YOU NEED TO KNOW ABOUT BROCCOLI POLLING - President Obama revealed Tuesday that his favorite food was broccoli, sending shockwaves throughout the political world. In the spirit of service journalism, here's a brief history of polling on the subject (no word, sadly, on how the vegetable fares compared to Congress):
-In 1992, 62 percent of Americans confessed they never eat broccoli, but 95 percent thought President Bush should set a good example by doing so. [Sun-Sentinel]
-An 87 percent majority of Americans say Congress doesn't have the constitutional right to mandate broccoli purchasing. [Reason]
-Six percent of people would prefer all their food to taste like broccoli, rather than chocolate, steak or potatoes. [CBS]
NEW NYC POLLING TONIGHT - Michael Howard Saul: "Eliot Spitzer scandal. Anthony Weiner scandal. Which one is more offensive to voters? Check out WSJ-NBC 4 New York-Marist poll at 6 p.m." [@MichaelHwrdSaul]
WEDNESDAY'S 'OUTLIERS' - Links to more news at the intersection of polling, politics and political data:
-Majorities of Americans favor shorter presidential campaigns, nationwide presidential primaries and national issue referenda, just like they did nearly 40 years ago. [Gallup]
-Chris Christie still leads Barbara Buono 2-to--1 in the New Jersey governor's race. [Quinnipiac]
-Iowa voters favor Republican Gov. Terry Branstad for reelection, Democratic Rep. Bruce Braley to replace Sen. Tom Harkin. [PPP]
-Lee Druthman puts the gerrymandering debate in historical perspective. [Sunlight Foundation]
-Mickey Kaus excoriates the "comically biased" the PPP congressional district polls on immigration reform. [Daily Caller]
-David Hill says President Obama's job approval numbers are down and predicts they will "test the low forties before the year is out, maybe even this quarter." [The Hill]
-Paul Maslin is polling for Anthony Weiner. [Capitol New York]
POLLSTER UPDATE VIA EMAIL! - You can receive this daily update every weekday via email! Just enter your email address in the box on the upper right corner of this page, and click "sign up." That's all there is to it (and you can unsubscribe anytime).