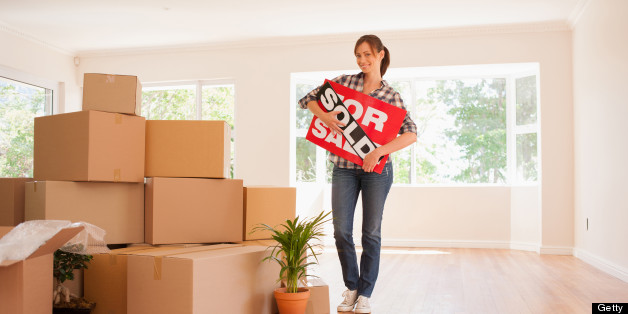 All the single ladies... are buying houses?
According to the National Association of Realtors' 2012 Profile of Home Buyers and Sellers, single women make up 18 percent of homeowners -- compared to 10 percent of single men. The report notes that single women have been buying homes at almost twice the rate of single men since the mid-1990s.
Despite the challenges that single lady potential homeowners face -- backlash from family and friends, for example -- women are increasingly making it work. It's also important to note that childless, single women are actually on track to outearn their male counterparts in many metro areas. This could allow greater numbers of women in this demographic to make major purchases, such as new property.
Plus, these women aren't against buying a house that requires some work. "[Single women] are a very discriminating buyer," says Karen Krupsaw, Vice President of Real Estate Operations at Redfin, told the New York Daily News. "I don't think they're unrealistic. They can see beyond the way [a property] may show as well as how they can fix it up and how it can be a dream home."
According to data released in 2006 by the Joint Center for Housing Studies at Harvard University, the three main reasons a single woman would buy a home are:

1. A strong desire to own her own home.
2. Needing more space or wanting smaller home.
3. Relocating closer to job, school or family.
And a 2012 blog post on Redfin revealed that women buying a home are more focused on whether they love it -- 46 percent of women first evaluate a home based on this, compared to 24 percent of men. Fifty-four percent of women and 76 percent of men evaluate a property based on cost and value.
We're all for women buying property solo -- and having the earning power to do so.
Are you a single woman who owns a home or is thinking about it? Comment below, or join the conversation on Twitter @HuffPostWomen!
BEFORE YOU GO
PHOTO GALLERY
12 Things Every Woman Should Know About Money