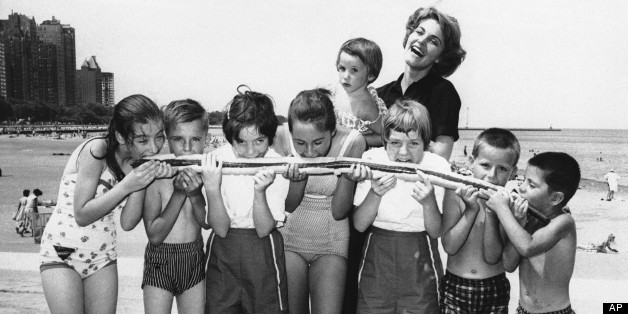 With the humidity in Chicago temporarily subsiding Thursday, making for a rather lovely end to the work week, it's the perfect time to head to the beach.
With that, we here at HuffPost decided to go for a dig in the Chicago History Museum's archive of the Chicago Daily News' photonegative collection, hosted by the Library of Congress, to catch a glimpse of Chicago beach days of yesteryear.
While the images hint that past generations of Chicagoans were considerably more creative when it came to figuring out activities to keep them busy on the shores of Lake Michigan -- human pyramids! ballet dancing! "beach golf!" -- the photos also offer a look at an uglier side of the history of the city's beaches.
For most of the early 20th century, the city's beaches were informally segregated -- in 1919, a major race riot that killed dozens and injured hundreds was sparked, at least in part, when Eugene Williams, a black teen, was struck by rocks and died after trying to use the "white" beach at 29th Street rather than the "black" one at 25th Street.
Things still weren't much better by 1960 when a black family was chased off Rainbow Beach by whites, WBEZ previously reported. The incident inspired black Chicagoans to stage wade-ins to reclaim the public space as one they, too, could use. The wade-ins are now honored by a plaque at Rainbow Beach.
PHOTO GALLERY
Chicago Hits The Beach, Through The Years