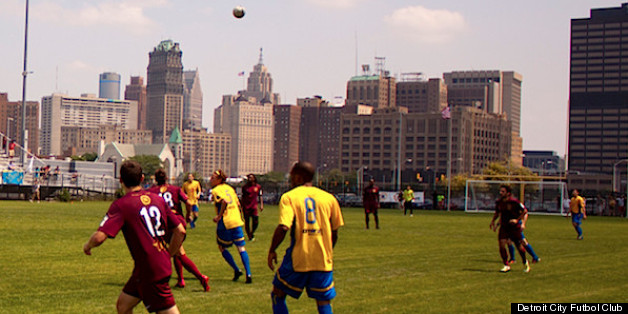 This article first appeared in the Tuesday, July 9 edition of Model D.
The party is raging in pockets all over town: the Detroit City Futbol Club, better known to the hardcore as "Le Rouge," are champs, defeating FC Buffalo 2-1 on Sunday. That took care of an undefeated regular season for DCFC. The National Premier Soccer League (NPSL) divisional playoffs are July 13-14 at Cass Technical High School in the Cass Corridor. Matthew Lewis was there to witness the team's final regular season home matchup with FC Buffalo, and found the success of Le Rouge has as much to do with community love as it does athletic skill.
In the early afternoon of June 23, drums and chanting reverberated across the lower Cass Corridor. Fans decked out in crimson and gold lined up around Cass Technical High School all the way to Cass Park, waiting to be admitted to the Detroit City Football Club's (DCFC) final home game of the regular season versus FC Buffalo. The hype around this match was palpable, as DCFC entered with a perfect record of 9-0 in the Great Lakes Division of the National Premier Soccer League (NPSL), a fourth tier professional soccer league with divisions around the country.

In its second season, DCFC emerged as one of the premier teams in its division and clinched first place in its division by defeating Zanesville 3-0 on June 30. The only "blemish" to the team's record was a 1-1 tie with AFC Cleveland on July 5.

DCFC plays on Cass Tech's football field just outside of downtown, where they have been dominant at home. Part of this, of course, has to do with the quality of DCFC's roster, which is composed mainly of Division 1 college soccer players from schools like the University of Michigan, Michigan State, Penn State, and Saginaw Valley State.

The other aspect of Le Rouge's dominance is the team's rabid supporter base, which creates a hostile environment for opponents and infuses DCFC players with energy through organized singing and chanting, heckling of opponents and referees, and the ignition of smoke bombs and fireworks when Le Rouge find the back of the net.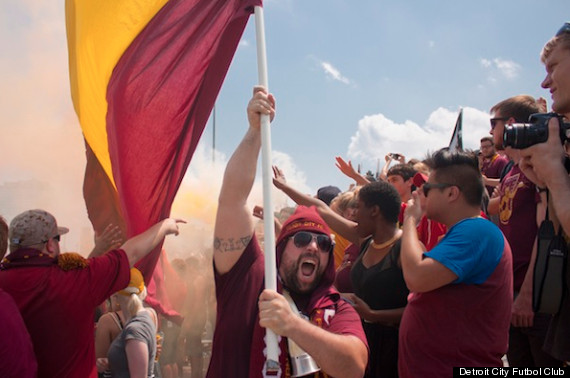 A member of the Northern Guard waves his flag from the stands of a Detroit City Futbol Club match.

"Cass Tech is a very difficult place for other teams to play. Most of our players have never experienced crowds or fans like this, so they are eating it up," says Sean Mann, one of five co-owners and founders of DCFC. "The atmosphere is a big recruitment tool."

Indeed, most sporting fans haven't experienced this kind of fandom unless they have attended soccer games in other parts of the world or at arenas of certain Major League Soccer teams.

DCFC has averaged attendance of 1,500 at home games and sold 1,000 season ticket packages this year. Against FC Buffalo, Le Rouge drew a crowd of 1,895, a record for the season. Two of those attendees, Le Rouge super fans donning kilts, were married at midfield during halftime and were presented with soccer balls signed by members of the team.

Mann reckons that there are only two clubs in the NPSL that rival DCFC in attendance. Why? It is mostly due to the club's focus on youth outreach. "We've seen success targeting 20-30 somethings with our marketing. I knew there were people watching European soccer matches in bars throughout Metro Detroit, and before the team played its first game, I spent time approaching people in those bars to build support for Le Rouge," says Mann.
A good portion of the regular crowd belongs to Le Rouge's main supporter group, the Northern Guard, which sits on the west side of the field in a grandstand marked with a sign that warns of adult language, constant noise, and smoke bombs. If you want to sit on that side of the field, you must be prepared to be an active participant in the rowdy cheering.

The Northern Guard has taken its show on the road, recently chartering a bus for 40 or so club loyalists to attend DCFC's final road games of the season in Cleveland and Buffalo over 4th of July weekend. This Rust Belt bus tour was joined by dozens of other Le Rouge supporters who caravanned in their own cars.

A source along for the ride commented on Friday night after the game, "DCFC has taken over a bar in Cleveland. Madness."

Though one side of the grandstands is quite rowdy, Le Rouge games are nonetheless family friendly. The eastern grandstand is filled with families and more passive observers, who seem as interested in the success of Le Rouge as Northern Guard members, but show their reverence for the team in a subtler way.

While Le Rouge's front office has succeeded in marketing to the 20-30 something crowd, they are also dedicated to youth outreach. This year, Slows to Go, a major sponsor of DCFL, underwrote the awarding of season passes to every kid playing youth soccer in the Think Detroit PAL league. The mix of people present at a DCFC home game is impressive, yet another reason to attend.
Up next, the NPSL Great Lakes divisional playoffs at Cass Tech this weekend. Tickets are $15 and get you into both games on Saturday and the division championship game on Sunday.
Here's the schedule: semifinals, Saturday, July 13:
Game 1: #1 Detroit City FC vs. #4 AFC Cleveland 5 p.m.
Game 2: #2 FC Buffalo v. #3 Erie Admirals (starts 30 minutes after Game 1)

The two winners play Sunday, July 14. Kick-off is 3 p.m.

Come on out and shout "City 'til I die!" until it echoes across the corridor.
Matthew Lewis is planning on nursing a sore throat, at the very least, after this weekend's madness.
Read more stories about Motor City culture and community at Detroit's online newsmagazine, Model D.
BEFORE YOU GO
PHOTO GALLERY
Best 2013 Sports Photos