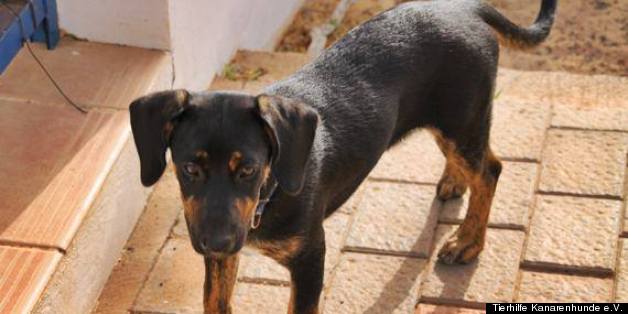 In the latest incident of apparent animal cruelty by police, German police reportedly shot a dog that was loose in an autobahn roadway. The Arnsberg officers involved are now facing online death threats for the action, which the department justified as a measure to save human lives, Germany's The Local reports.
Bruce was set to be put down on the Canary Islands, when the dog was rescued by a German family. During a walk last week, he managed to scamper off, and the family alerted local authorities. Bruce was eventually spotted by drivers on the A46 motorway in the early hours of July 4.
A German police patrol responded and attempted to catch the dog, but was unsuccessful. So, placing the lives of humans over the animal's, the officers first shot at the dog before running over him twice, Arnsberg police told the dog's owners, according to local reports.
"The officials had tried in vain to scare the dog off the road and finally decided to run over the dog," police spokesperson Ludger Rath told DerWesten, adding that police had determined that human lives were in danger with the dog loose.
As it turns out, Bruce may have survived the incident. He reportedly fled the scene, but has not been seen since.
The German officers' actions came to light after the Canary Dog Association, an animal rescue group that facilitates dog adoptions, shared the incident on social media this week, asking Facebook users to help locate the missing pooch.
However, it appears, the group did not intend for the German police to receive such a fierce backlash. In a Facebook post Thursday, the association requested that users stop sending death threats to the police and explained that such threats are not in the spirit of the group.
The shooting is the latest incident in which police have fired upon an animal.
Earlier this month, several California police officers came under heavy criticism after a cell phone video of a Hawthorne cop shooting a dog surfaced on YouTube. Three officers were later suspended from street duty for their own safety after concerned citizens and animal lovers reacted vehemently to the video.
BEFORE YOU GO
PHOTO GALLERY
Animals In The News