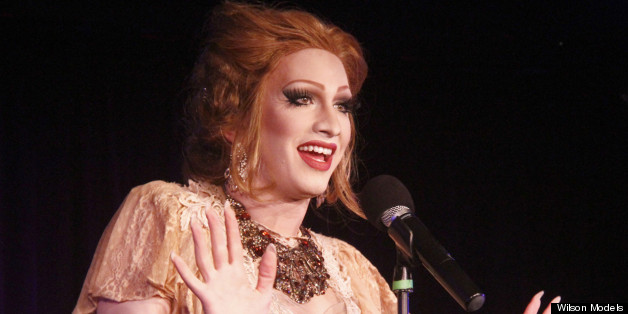 "RuPaul's Drag Race" Season 5 winner Jinkx Monsoon is currently making his New York debut starring as half of the duo that make up "The Vaudevillians" at The Laurie Beechman Theatre.
Following in the footsteps of another famous cabaret duo, Kiki & Herb, Jinkx Monsoon and his partner, Major Scales, play Kitty Witless and Dr. Dan Von Dandy, a famous married couple/performance act from the 1920s that were frozen alive while performing in Antartica. Now thawed out almost a hundred years later, Kitty and Von Dandy are back onstage only to realize that many of the songs "they wrote" a century ago have been "stolen" by some of today's most popular artists, so they seek out to sing the songs as they were originally intended: in 1920s Vaudeville style.
Some pop songs might not seem like they would work in a Prohibition-era style, but songs like Madonna's "Music" (changing the beginning of the 2000 hit to "Mr. Conductor, won't you strike up the band, I wanna dance with my baby...") and the ABBA classic "Take A Chance On Me" receive fresh makeovers with the new arrangements.
Singing live the whole time, dancing and bantering with the audience, Jinkx shows off talent that was only glimpsed at on "Drag Race," and proves to be a real star onstage, while Major Scales, who plays the drag star's "husband," is the invaluable straight man and piano player during the non-stop two-hour stage spectacle.
Even with the show being extended twice, now through August 22, "The Vaudevillians" has being selling out, so act fast to see "America's next drag superstar" in the flesh.
To buy tickets, click here.