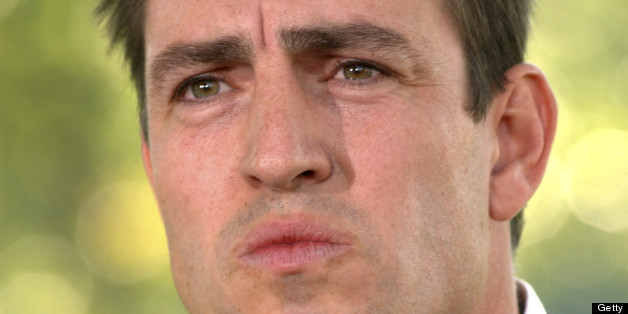 The New York Observer's Colin Campbell made good use of the sudden return of Eliot Spitzer to the political limelight, corralling the would-be New York City comptroller with would-be New York City mayor Anthony Weiner in a cheeky piece titled "The Boxer Rebellion: Disgraced Duo Transforms the Election Cycle":
"So what craziness is going to happen next?" a Democratic operative asked Politicker Sunday night. "Is Ed Koch going to climb out of the grave and join the field for public advocate?"

Earlier that day, Eliot Spitzer had announced a comeback campaign for comptroller, sending the city's political world, still reeling from Anthony Weiner's mayoral bid, further into shock.

"This is a land of second chances." Mr. Spitzer said early Monday morning during a round of television and radio interviews. "I think it is a land of forgiveness."

At the moment, however, New York City's electoral atmosphere feels more like a variety show.
Just to put a fine point on it, the article comes complete with an image of Weiner/Spitzer being jointly sworn in whilst in their skivvies.
This is all well and good, but everyone knows that the iron-clad rule is that it takes three to make a "trend piece." Two just doesn't cut it. So sometime after Campbell's piece got published, his Politicker colleague Ross Barkan reported on a radio interview with former Congressman Vito Fossella (R-N.Y.), who famously became embroiled in a career-wounding scandal after a wild night of drunk driving led to the revelation that he had fathered a child with a woman who was not his wife.
The trend-piece opportunity presented itself when Fossella was asked if he wanted to get in on some of this Weiner/Spitzer road-to-redemption action, but hopes were dashed when Fossella was all, "No thanks":
"I am always humbled by folks who have asked me to reconsider and run again," Mr. Fossella told radio host Curtis Sliwa yesterday. "Who knows what tomorrow brings? But for now, I look at it that the people who matter most are in good shape, that I am at a point I need to be and frankly, very simply … I don't have that desire to run right now."
Ah, opportunity denied. I suppose that someone could ask face-slashing former State Sen. Hiram Monserrate next, but I hope not because that guy really is just a putrid bag of filth.
[Would you like to follow me on Twitter? Because why not?]