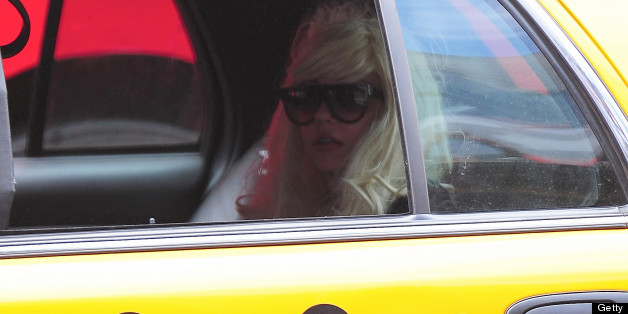 We are beginning to suspect there is an Amanda Bynes impersonator roaming the streets of New York. It's been hard enough to keep track of Amanda's erratic behavior, but now there might be two of her? A few videos have surfaced, which feature the now-iconic blond wig and spasmodic movement we've come to associate with the troubled star.
This twitchy Amanda has been spotted walking down the street, slurping soup and attacking an elliptical. Of course, nothing really surprises us anymore when it come to Ms. Bynes, but it's definitely fishy that we never see her face ...
Exhibit A: "Amanda" spazzes out during cardio. Whoever that is, they're burning a TON of calories.
Exhibit B: A producer from "The View" spots "Amanda" acting super "peculiarly" at a local restaurant and "immediately knew it was Amanda Bynes." Amanda Bynes "adamantly" denies it was Amanda Bynes.
that is not me eating soup! there is someone posing as me who looks nothing like me! ew!

— amanda bynes (@amandabynes) July 12, 2013
Exhibit C: Instagram user @mlcnyc uploads a video of "Amanda" dancing, much like she was in court earlier that day. Less-than-reliable source Amanda Bynes claims this is not a video of Amanda Bynes, tweeting, "That Is Not Me! I'm Suing Complex Magazine To Take That Article Down! Someone Is Posing As Me And Didn't Show Their Face! Ew Complex Mag!"
BEFORE YOU GO
PHOTO GALLERY
Amanda Bynes Twitter Pictures