Security video from a western Washington McDonald's shows an accused murderer with his alleged victim just days before she was found with her throat cut and more than 20 stab wounds on her body.
Investigators think the footage will provide significant evidence against Anthony Garver, a Spokane-area man with a long criminal history. Garver is now charged with first-degree murder in the June 17 death of Phillipa Evans-Lopez, a 20-year-old Snohomish County woman.
Garver, 25, is shown in the video with Evans-Lopez three days before the woman's body was found in her Lake Stevens home. A receipt found in Evans-Lopez's purse led investigators to the McDonald's. Investigators say the young woman had bought Garver breakfast.
(Story continues below.)

In the video, Garver is seen a black hooded sweatshirt and a camouflage backpack. These are the same clothes he was wearing when police arrested him outside the Lake Stevens McDonald's July 2. Detective Brian Walvatne of the Pierce County Sheriff's Office told KXLY that police are now trying to establish a connection between Evans-Lopez and Garver.
"We want to know how they met, when they met, [whether] they have friends in common," Det. Walvatne told the station. "Those are the things we are trying to answer right now."
The case is now being handled by the Snohomish County Sheriff's Office major crimes unit, spokeswoman Shari Ireton told The Huffington Post in a July 12 phone interview.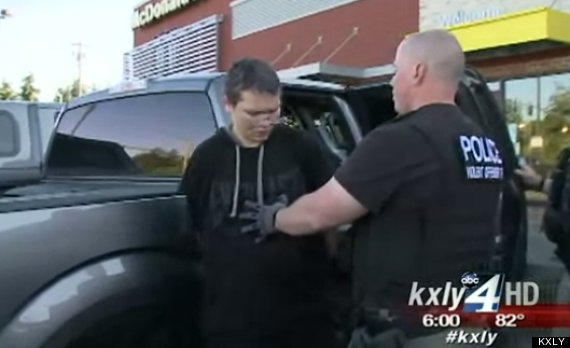 Garver is arrested July 2. (Screen grab: KXLY)
Detectives said Garver denied knowing the victim during questioning, but later changed his story. At one point, the suspect denied his own identity.
According to KIRO, Garver told investigators that another person, "a woman with blonde hair believed to be 18-22 years old," was with him and the victim between June 13-16.
Ireton told HuffPost that police are searching for the woman in order to validate facts in the case.
"We believe that [Garver and the victim] spent some time with her [the woman]. ... She is not a suspect. She's a witness," Ireton said, adding that the office is looking for anyone with information about the case.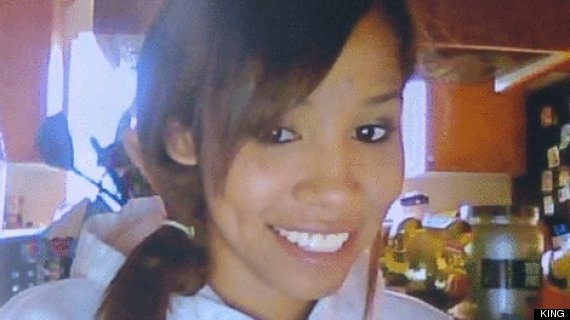 Phillipa Evans-Lopez was murdered June 17 at her home. (Photo: KING)
Evans-Lopez was mother to a 3-year-old son, according to KING. The victim's family told the station that they do not believe she was targeted at random, but that her murderer was an acquaintance.
"Knowing that person is out there living their life and doesn't care they took her away from us, it's just wrong," Evans-Lopez's aunt, Rosa Gonzales, told the station prior to Garver's arrest. "It hurt so many people."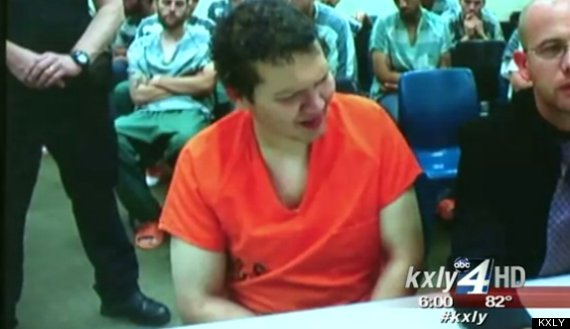 Garver's criminal history dates back to 2006. (Screen grab: KXLY)
Garver's criminal history stretches back nearly a decade. The accused murderer first ran into trouble with the law in 2006, after he threatened to blow up Department of Health and Human Services offices in Spokane, Wash. He later threatened to kill both the prosecutor and the judge hearing his case, according to a separate KXLY report.
Garver was sentenced to three years in prison in 2008, with credit for time served. He was released in 2009, but quickly crossed paths with law enforcement again. U.S. Marshals then searched for Garver for several months after the recently released felon failed to show up at a mandated work-release program, ultimately tracking him to a rustic camp in the wilderness near Mt. Spokane.
In 2010, Garver was arrested after leading Montana State Police on a high-speed chase, at one point driving in reverse into oncoming traffic. Garver was released from Federal Prison in Feburary and soon went missing.
KXLY reported that his flight caused a woman, who had previously tried to help the suspect but ended up testifying against him, to go into hiding with her children. Garver had threated to kill her after she testified.
"He felt like we betrayed him," the woman, who wished to remain anonymous, told the station. "He had criminal activity, but more so he had mental illness."
BEFORE YOU GO
PHOTO GALLERY
10 Major Crimes That Shocked America (SLIDESHOW)