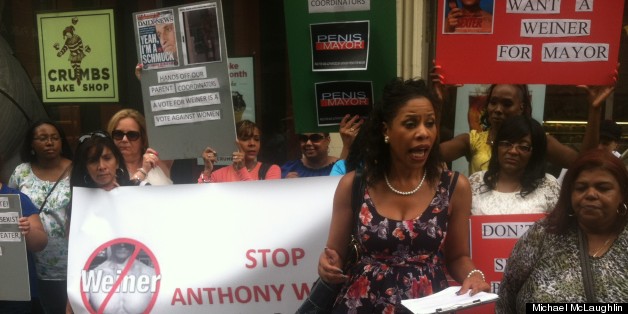 NEW YORK -- School workers who fear they'll lose their jobs if Anthony Weiner becomes mayor of New York City said Friday that his education policy represents "an attack on women."
The former Democratic congressman has vowed to eliminate all parent coordinators from the city's school system if he succeeds Mayor Michael Bloomberg. Weiner believes the parent coordinators -- who are responsible for handling parents' questions and helping them with variety of personal problems that might intrude on student's school performance -- are a "waste of money," according to his campaign website.
According to a union that represents the coordinators, Local 372, the positions are mostly held by minorities and women. Mona Davids, the union's political director, told The Huffington Post that 95 percent of the positions are filled by women, and the majority of the coordinators are black and Latino.
"This is an attack on women," Davids said. "This is a man who has no respect for women," she added, alluding to the sexting scandal that led to Weiner's resignation from Congress in 2011.
Davids and about two dozen coordinators and supporters rallied outside Weiner's Manhattan apartment Friday. They held posters with sayings like "We don't want a Weiner for mayor" that included above-the-waist cuts of the images that famously led to Weiner's downfall in 2011.
Salaries for parent coordinators range from $25,000 for new hires to a maximum of $40,000, Davids said.
"Out of all the waste in the city of New York, why is it that the only jobs this man has proposed to eliminate are the parent coordinators?" she said.
Weiner's campaign didn't respond to repeated requests from HuffPost for comment.
The proposal to cut the coordinators is one of 11 school reforms Weiner wants to implement as mayor.
"Parent involvement is important, and participation in the Parents Associations should be a right of every school mom and dad," Weiner's "Keys to the City" policy reads. "But the current policy of having paid parent coordinators is a waste of money and misunderstands the importance of parents being part of the oversight of a school -- not the staff."
The parent coordinator job was created about 10 years ago by Mayor Bloomberg. It was one of Bloomberg's many initiatives to reshape the nation's largest public school system, which has 1.1 million pupils in more than 1,700 schools.
Davids said that Public Advocate Bill de Blasio, Comptroller John Liu, former comptroller Bill Thompson and former city councilman Sal Albanese -- all vying for the Democratic nomination for mayor -- have signed a pledge to keep the parent coordinators if elected.