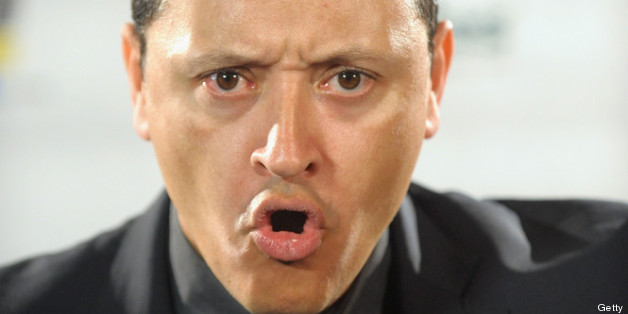 Elvis Crespo is knee deep in it -- and not just figuratively.
The "Suavemente" singer made headlines earlier this week in Puerto Rico after restaurant manager Alexander de Jesús beat the inebriated crooner for refusing to pay and attempting to kiss him, EFE reports. The incident occurred in San Juan de Isla Verde around 3 a.m. and, according to the "El Circo de la Mega" radio show, resulted with the artist defecating in his pants.
After several medical exams and days of silence, Crespo addressed reporters as he left the Doctor Leonardo Valentín Tirado hospital on Thursday night, Puerto Rican daily El Nuevo Día reports. The 41-year-old star admitted he felt ashamed over the altercation and revealed he had an alcohol relapse.
"What happened on Monday morning was definitely unfortunate and embarrassing," Crespo told reporters. "I was wrong and I apologize to my family, to my fans. I admit that I have a problem with alcohol, and that I have to work on it. I'm already seeking rehabilitation. I wish I could rewind, these are things that happen. God has a purpose for this and I'll do what's necessary to move forward. Life consists of things like this."
The singer's representative Helga García told the Puerto Rican daily that rehabilitation would be sought abroad.
"Elvis' decision [to accept his addiction] was brave and the right thing to do," García said. "We are very proud and satisfied with that."
This isn't the first time Crespo has found himself publicly shamed, in 2009 the artist was accused of masturbating on a plane flying from Houston to Miami.

BEFORE YOU GO
PHOTO GALLERY
Elvis Crespo