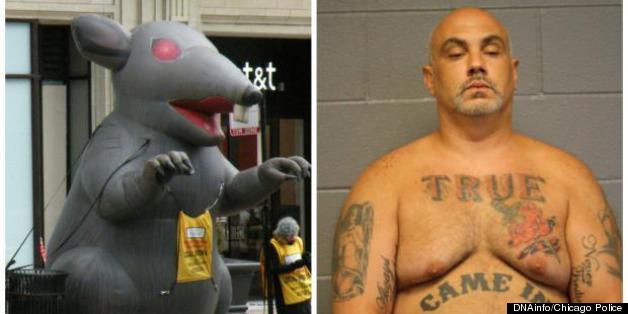 Story by Erin Meyer, courtesy of DNAinfo Chicago
Scabby is a mainstay of union protests in Chicago, a giant inflatable rat meant to shame companies that use nonunion workers.
Scabby, however, met his match this weekend when an angry worker stabbed it with a box cutter and then ran over the deflated rodent with his car, prosecutors said. The worker was trying to get past the rat during a Downtown dispute with a Teamsters organizer.
The Scabby slashing hit George Koukos hard, though. Police charged the 43-year-old Wauconda resident with a felony and locked him up.
It happened, prosecutors said, as Teamsters Union demonstrators gathered outside 20 S. Clark St. on Sunday.
BEFORE YOU GO
PHOTO GALLERY
13 Of The Funniest Criminals