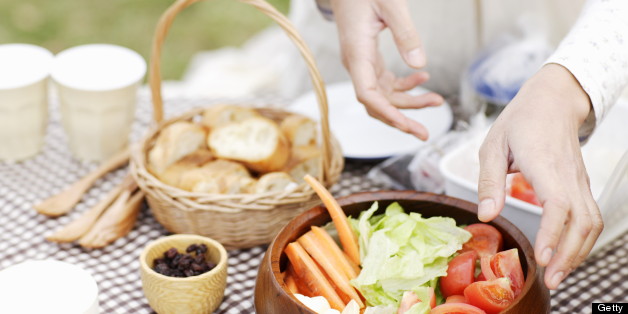 By Laura McMullen for U.S. News
Need an excuse to hang out with friends in the fresh summer air, now that the Memorial Day and Fourth of July festivities have passed? Well, here you go: July is National Picnic Month! Grab the blanket, sunscreen and Fido. Leave the laptop. Whether you're venturing to Central Park or your own backyard, enjoy the sunshine and picnic-perfect dishes below.
More from U.S.News.com:
10 Smart Swaps for Your Next Cookout
Healthy Drinks for Summer
5 Tips for Eating Healthfully at a Cookout
These recipes are straight from Eat + Run nutrition experts, who were asked to share a dish that's healthy, easy to transport and can stay tasty and safe outside the refrigerator. Whichever recipe you choose, make sure to pair it with plenty of water to keep you hydrated and healthy enough to picnic another day.
The following recipes are perfect for your next picnic:
Mitzi Dulan's Strawberry Salad
[Read more from Mitzi Dulan.]
Salad:

1 pound mixed romaine

1 pint strawberries

4 ounces crumbled bleu cheese

1/2 cup pecans, chopped

Dressing:
1/2 cup olive oil
1/3 cup sugar
1/4 cup red wine vinegar
1 clove garlic, minced
1/4 teaspoon paprika
1 pinch of ground black pepper

Cut the greens, slice the strawberries and toast the pecans; set aside in separate containers for each until arriving at the picnic. Mix dressing ingredients and store separately as well. When ready to serve, mix all ingredients together.
Bonnie Taub-Dix's Guac-Humm-Mole
[Read more from Bonnie Taub-Dix.]
2 ripe avocados

1/2 cup hummus

1/4 cup plain Greek yogurt

2 garlic cloves

1 tablespoons chopped onion (or one small white onion)

2 tablespoons chopped parsley or cilantro

Juice from one fresh lime

1/8 teaspoon salt

1/8 teaspoon white pepper

3 plum tomatoes, cut into cubes

Cayenne pepper (optional)

In the bowl of a food processor, add avocados, hummus, Greek yogurt, garlic, onion, parsley, lime juice, salt and pepper. Combine until creamy.

Add cubed tomatoes to food processor. Pulse two or three times until tomatoes are chopped, but don't over-pulse.

Garnish with a sprig of parsley. Serve with cut up veggies or whole grain tortilla chips.

Tip: Keep the avocado pit and add it to the mixture to keep it greener longer, or add an extra squeeze of lime juice.
Elisa Zied's Fruity Chicken Salad via Chef Paolo Casagranda
[Read more from Elisa Zied.]
2 small red apples, cut into strips

1 1/2 cups canned corn kernels

1/2 cup golden raisins

1/2 cup diced celery

1/2 cup diced fennel

1 pint red cherry tomatoes, cut into quarters

1 1/2 avocados, diced into 1/2-inch cubes

7 cups of greens (such as arugula frisee, or radicchio), lightly chopped

5 medium organic chicken breasts, lightly pounded

2 tablespoons balsamic vinegar

6 tablespoons extra-virgin olive oil

1 teaspoon sea salt

Freshly ground pepper (optional)

Juice of 2 lemons

1/2 teaspoon Dijon mustard

In a large bowl, mix apples, corn, raisins, celery, fennel, tomatoes, avocados and the greens.

Marinate the chicken breast in the balsamic vinegar, 1 1/2 tablespoons of extra-virgin olive oil and salt and pepper for approximately 5 minutes.

Brush a large pan with extra virgin olive oil and set on medium to high heat. Grill the breasts on each side for 3 to 4 minutes and set aside. Once the chicken is cool to the touch, chop into half inch cubes. Add the chicken to the prepared salad ingredients

In a separate bowl, mix together the lemon juice, Dijon mustard, remaining extra-virgin olive oil, salt and pepper.

Add the dressing to the salad and toss gently.

Tip: In the summer, use fresh corn kernels for more sweetness and crunch.
Note: This recipe is from the book "Feed Your Family Right!" by Zied and Ruth Winter
Tamara Duker Freuman's Watermelon-Cucumber Salad
[Read more from Tamara Duker Freuman.]
1/2 watermelon, cubed

2 medium cucumbers, peeled, seeded and diced

1/4 cup mint leaves, chopped

1/4 cup feta cheese or 1/2 cup diced salty white cheese

Balsamic vinaigrette to taste

In a bowl, mix watermelon, cucumber and mint. When ready to serve, add cheese and vinaigrette. Note that the ingredient measurements are very flexible, based on taste preference. But don't overdo it with the cheese, Freuman says. A little bit goes a long way in terms of flavor.
Liz DiAlto's Turkey Burger
[Read more from Liz DiAlto.]
1 pound antibiotic and hormone-free ground turkey

1 tablespoon sesame seeds

1 teaspoon light teriyaki sauce

1 teaspoon coconut oil

1/2 red onion, finely chopped

1 teaspoon minced garlic

Lightly saute onion and garlic. Combine onion and garlic with ground turkey, coconut oil, light teriyaki and sesame seeds. Mix it up well, and roll into patties. Bake, grill or cook patties on the stove top.
Frances Largeman-Roth's Roasted Beet, Pistachio and Goat Cheese Salad with Basil Vinaigrette
[Read more from Frances Largeman-Roth.]
Salad:

1 pound fresh beets (preferably a mixture of yellow and red), trimmed

1 large cucumber, peeled and sliced into rounds

1 4-ounce package goat cheese, crumbled

1/2 cup pistachios, salted and roasted

2 tablespoons chopped red onion

Vinaigrette:
2 tablespoons extra-virgin olive oil
1 tablespoon sherry vinegar
4 basil leaves, sliced
1/4 teaspoon salt
1/4 teaspoon pepper

Preheat oven to 400 F. Wrap beets tightly in foil and place in a roasting pan in the center of the oven. Roast for 60 to 90 minutes, or until tender when poked with a fork. Remove beets from the oven and cool.In the meantime, whisk the olive oil, vinegar, basil, salt and pepper together in a small bowl, and then transfer to a small, airtight container or jar.

Once cool, rub the beets with a paper towel until the skins slide off. Discard skin. Quarter the beets and place in a medium-sized airtight container. Place the cucumbers, goat cheese and red onion in an airtight container. Place the pistachios in a zip-top plastic bag.

When you're ready to serve, combine the beets with the cucumbers, goat cheese, onion and pistachios in a large bowl. Drizzle with the vinaigrette and serve.
Rebecca Scritchfield's Healthy Tuna Salad
[Read more from Rebecca Scritchfield.]
2 cans light tuna chunks

2 tablespoons relish

1/2 tablespoon mayonnaise

1/2 tablespoon Dijon mustard

1/2 cup plain low-fat yogurt

Drain tuna. In a bowl, stir together all ingredients. Measure 5 servings (1/4 cup each) in a storage container for your picnic. Serve with veggies, to pita chips or wheat rolls.
Catherine and David Katz's Peach Almond Cobbler
[Read more from David Katz.]
Filling:

6 cups fresh ripe peaches, peeled and sliced (about 9 medium peaches)

2 tablespoons brown sugar

1/2 teaspoon cinnamon

1/8 teaspoon almond extract

1 tablespoon whole-wheat pastry flour

Topping:
1/2 cup ground almond meal (or grind whole roasted almonds)
1/2 cup whole wheat pastry flour
1/2 cup rolled oats
3 tablespoons brown sugar
2 tablespoon and 1 teaspoon regular Smart Balance spread
1 tablespoon fat-free buttermilk

Preheat the oven to 400 F. Spread 1 teaspoon Smart Balance on a 9-inch pie dish.

In a bowl, mix all peach filling ingredients, making sure to keep as much of the peach juice as possible. Place mixture in pie dish.

In another bowl, mix all dry topping ingredients. Add remaining Smart Balance and buttermilk, and work ingredients with your fingers to make a crumbly mixture. Sprinkle evenly over filling.

Bake in oven for 15 to 20 minutes until the top is golden and the juices are sizzling.

Tip: You can blanch peaches in boiling water for 30 seconds to remove their skins.
Keri Glassman's Picnic Parfaits
[Read more from Keri Glassman.]
4 ounces crème fraiche

4 ounces low-fat sour cream

16 ounces low-fat strawberry yogurt

1 pint strawberries, sliced lengthwise

1 pint blueberries

4 clear cups

Mix the crème fraiche, sour cream and yogurt. Store in an airtight container in your cooler until you're ready to serve at the picnic.

When you're ready to serve, layer the yogurt mixture, strawberries and blueberries in the cups to make beautiful parfaits. Garnish with a few extra berries.
BEFORE YOU GO
PHOTO GALLERY
What Nutritionists Eat For Breakfast