Lady Gaga is hardly the conservative dresser, but walking around New York City in nothing but a lace bra and a tiny skirt? Now that's ballsy, even for her.
The 27-year-old singer kept a rather low profile these past months following her hip surgery, which caused her to cancel the rest of her "Born This Way Ball" tour. But if anyone can make an unforgettable comeback, it's Gaga, and it looks like she's ready to shock-and-awe us all again.
Braving the sweltering heat of New York this week, Gaga was seen in nothing but her barely-there outfit and her signature alarmingly high heels. Since she so willingly flashed us some serious skin, we must say -- the lady is looking all kinds of wonderful, now that she reportedly lost 30 pounds.
Last September, rather unflattering photos of Gaga circulated the Web, prompting her to admit she had gained 25 pounds. But instead of resorting to an all-juice diet, Gaga proudly shared photos of herself in panties and a bra and opened up about her struggles with eating disorders such as anorexia and bulimia. "Be brave and celebrate with us your 'perceived flaws,'" she encouraged her Little Monsters.
Gaga, as eccentric as this ensemble is, we think you look flawless.
PHOTO: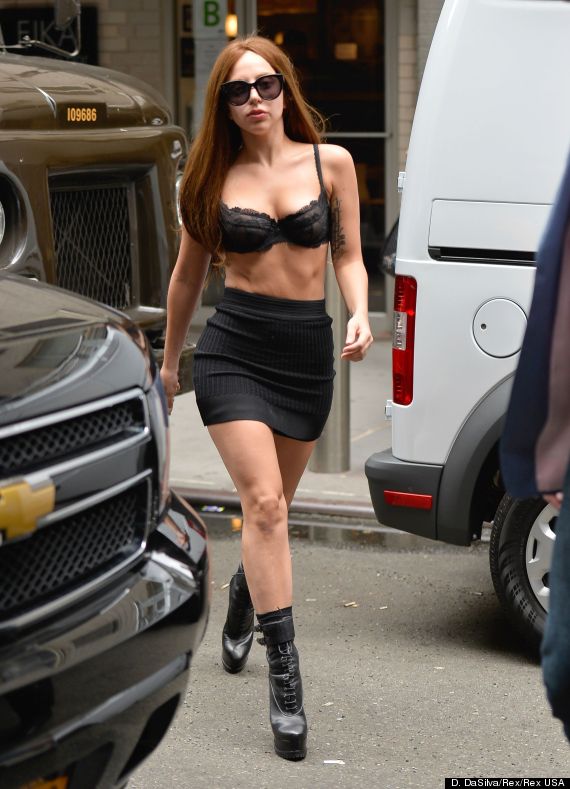 BEFORE YOU GO