OK, so the dog days of summer are starting their slow creep and in your most-candid moments you are ready to admit that Words With Friends is getting a little, well, tiresome. For those who are into real estate porn -- you know when you while away the hours looking at photos of houses you can't afford -- along comes a new "find a house" game for their collective amusement. And the grand prize of Realtor.com's social media "Find It First" game is an Airstream.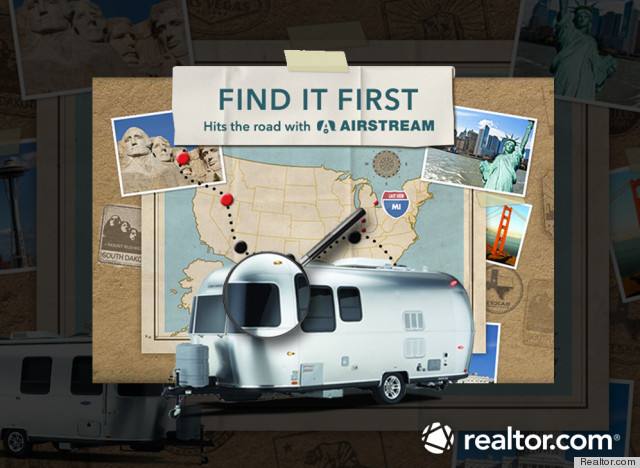 The idea behind the media effort, of course, is to increase use of Realtor.com's mobile app, but it's pretty nifty to be chasing the clues that come from Twitter and Facebook. This is how the game works:
Using a moveable listing, the Airstream moves from site to site throughout the day -- popular landing spots and landmarks that families would normally stop at on a road trip. Participants get clues to the Airstream's location by following Realtor.com on Twitter and are entered in the sweepstakes when they find the listing and send it to foundit@realtor.com. The contest ends July 25, when some lucky stiff gets the home on wheels or a year's worth of mortgage payments.

"We saw an opportunity to partner with an iconic brand in Airstream to create something that is fun, innovative and engaging," said Audie Chamberlain, Realtor.com's director of social marketing. "I think we've accomplished that with 'Find it First Hits the Road,' which combines a time-honored family tradition (the road trip) and with social media and our award-winning mobile apps."
So, Waldo is now an Airstream?


BEFORE YOU GO
Here's another cool home for you to look at:
PHOTO GALLERY
World's Most Expensive Motorhome