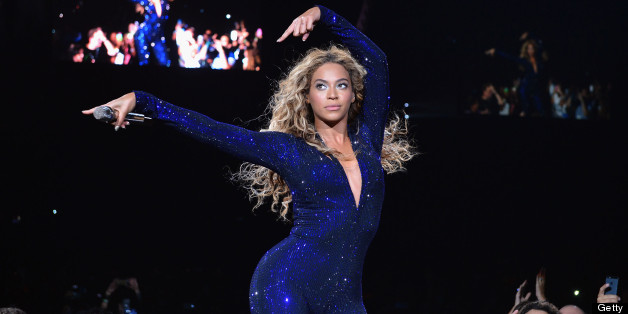 Whatever she's doing, Beyonce is never far from the spotlight. We see her every time she's out with Blue Ivy and admire every awesome jumpsuit she wears at her shows. She and Jay-Z are the definition of a power couple.
Bottom line: People love Bey.
And it turns out that it isn't just the girls (or guys) who sit around in sweats on a Friday night crying at her documentary (don't even pretend that you didn't) who love her.
Hollywood does too.
So here are 10 of the many, many, many reasons Beyonce is amazing, as told by celebrities and their GIFs.
1. She inspires us.
Beyonce, but it is you who inspire me. Lets keep on inspiring each other, and all women. #LongLiveStunting

— Serena Williams (@serenawilliams) June 12, 2013
2. She makes us cry.
@Beyonce your concert was fantastic, @TraceyWigfield and I were like crying during Halo

— Mindy Kaling (@mindykaling) July 2, 2013
3. She gets acronyms created for her.
Trying to get inspired after a long day of dancing. We must ask: What would Beyonce do? #WWBD pic.twitter.com/v7a4gSxApC

— Anna Kendrick (@AnnaKendrick47) June 27, 2013
4. We want her to think we're special.
Want to be the kind of girl Beyonce would be proud of.

— kelly oxford (@kellyoxford) June 27, 2013
5. She never lets us forget her.
Thank you, @Beyonce 4 a magical show last night! Your voice, dancing, athleticism, and charisma on stage are simply unparalleled! #Goddess

— Rashida Jones (@iamrashidajones) July 3, 2013
6. She wins. Period.
#tbt Remember that time I handed @Beyonce her #Grammy? Crazy!! pic.twitter.com/nrufowqlCc

— Lea Michele (@msleamichele) July 11, 2013
7. She has amazing hair.
Welp Beyonce is officially the queen of everything, including hair-ography..after seeing her tonight I will be up practicing for hours

— Erin Andrews (@ErinAndrews) July 2, 2013
8. She makes us forget about our significant others.
Last night at the Mrs Carter Show! I think Chrissy wants me photoshopped out. beyonce @chrissyteigen http://t.co/rXDR284IOP

— John Legend (@johnlegend) June 30, 2013
9. There are days named after her.
It's beyonce day y'all. @carolinelovern jenhodge84 http://t.co/PHbpehHWtq

— Brooklyn Decker (@BrooklynDecker) July 7, 2013
10. She truly lives up to her "Queen B" status.
EXCUSE ME but Beyoncé is PERFECTION

— Kendall Jenner (@KendallJenner) July 2, 2013
BEFORE YOU GO
PHOTO GALLERY
Beyonce & Jay Z