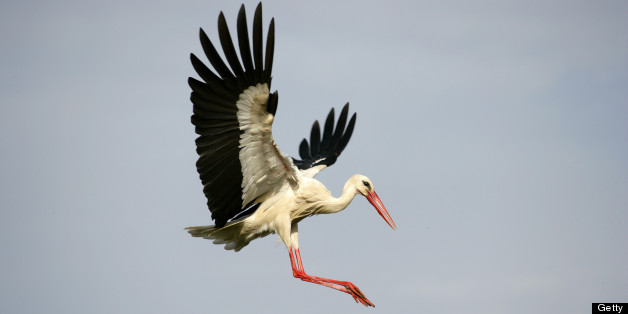 Residents of the northern town of Bergholz in Germany are living in fear this summer, their windows under constant threat of attack. The menace? A rogue stork.
According to Germany's The Local, the stork attacks cars, windows on houses and glass doors. So far, Mayor Ulrich Kersten said at least four vehicles have been damaged, each costing up to 1,000 euros (about $1,300) worth of damage.
Bird expert Jens Krüger believes the stork is attacking objects with a reflective surface because it perceives its reflection as an enemy, news agency Deutsche Presse-Agentur reports. Based on firsthand descriptions and a photo obtained by DPA, the grumpy bird is likely a white stork.
Some residents have taken to covering their glass doors and windows with blankets or cardboard, in an attempt to deter the stork from disturbing homes.
"How should we protect ourselves otherwise?" Johanna Preuß questioned, according to the local Nordkurier newspaper.
Unfortunately, it seems, no one has the answer.
According to the Hamburg Evening Gazette, another resident attempted to lure the attacker away from cars with a plastic stork. It was destroyed.
Most are simply waiting for migration season later this year when the bird will travel to Africa for the winter and leave the town in peace.
BEFORE YOU GO
PHOTO GALLERY
Animals In The News