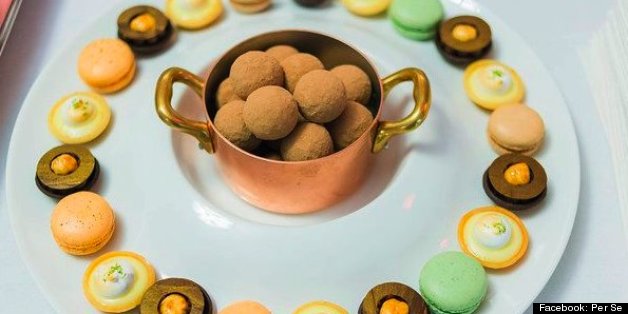 Going to a three-star Michelin restaurant is a huge treat for most people -- it takes a lot of disposable income to be able to afford a meal at any one of the world's top restaurants. But what if you could go to every single three-starred restaurant in the world (that's 109, by the way)? Well, nothing is stopping you -- besides money, of course. But if you find yourself with $275,000 (£182,000) to spare, the website VeryFirstTo (the people behind the trip that toured every UNESCO World Heritage site) in partnership with Holidaysplease will arrange this jet-setting food extravaganza all for you.
On average, travelers will visit a restaurant every other day for six months in 12 countries. Hotel accommodations and airfare are included in the price, along with all reservations.
Let's break this down. VeryFirstTo averages each meal as £250 (about $380) per person, including "house" wine.
FOOD: $380 x 2 (price is per couple) x 109 restaurants = $82,840
HOTEL: The offer is for business class and top hotels, so let's say $250 per night for six months = $45,000
AIRFARE: There are a dozen countries that have three Michelin stars. Nine of them are in Europe, and the other three are the U.S., Japan and China. Taking this into account, let's roughly estimate airfare costs at $20,000 for two.
TOTAL: $147,840
Technically if you planned this gastro-tastic romp yourself, you'd probably be spending less. But then you'd also have to snag really hard reservations, book a ton of hotels, and navigate airfare. Is this deal a good one? Well, that all depends how much money and spare time you have. We're going to go eat some $2 tacos now.
This post has been updated to include the partnership with Holidaysplease.
BEFORE YOU GO
PHOTO GALLERY
World's "50 Best" Restaurants 2013