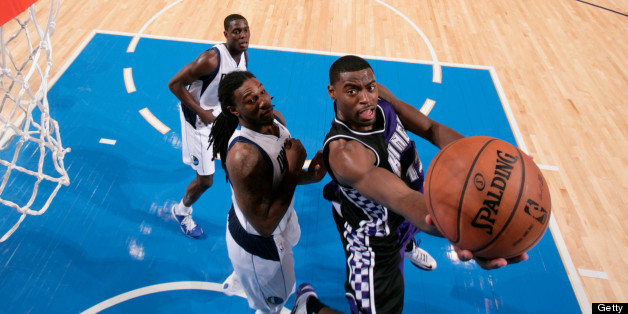 After a three-team sign-and-trade during the free agency period, Tyreke Evans is leaving the Sacramento Kings to play for New Orleans, where he will earn $44 million over the next four years. He recently sat down with The Huffington Post to dispel arguments that he makes no sense for his new team and why he's actually an ideal fit, as well as to account for what went wrong in Sacramento.
Evans, who spent the last week running a free basketball camp for underprivileged kids, cited as reasons that he's a good match for the Pelicans his close relationship with All-Star point guard Jrue Holiday and his willingness to play whatever role the coaches think best.
How are you feeling about heading to the Pelicans?
I'm feeling good. I'm excited about it. I actually know Jrue [Holiday] pretty well from the McDonald's Game [in 2008] and playing AAU, so we have a good relationship, and just going down there and seeing a new city and meeting the fans.
You came into the league as a point guard, but at this stage in your career, what position are you actually most comfortable playing?
I'm not sure what position I'll be playing. I'm not sure right now, but I know whatever position they need, I will go out there and work hard. I think I'm good at the 1 and 2, but you know, I also can play the 3, so I'm not really picky about what position I'm playing.
How do you play with Holiday when you're playing off the ball?
I think that's a great combo between us, because he's similar. We can do the same things in the backcourt and kind of switch it up and play different roles. I think that's good, to have guys that can play the same roles.
What about playing with a guy as talented and young as Anthony Davis? Will you be using the pick-and-roll game with him?
Definitely. I mean, that's gonna make it easy for both of us. With the shooters we got and just running the pick-and-roll, either you gotta help on me, or it's either a layup or a dunk for him. And if I need to knock down that shot, I'm going to do it.
You shot a career best from three last season. Is there one thing this summer that you're focusing on to fit in with New Orleans?
A little bit of everything, really, not specifically one thing. I still want to work on my shot more to be where I want to be comfortable, but just overall my whole game.
If the coaching staff says, 'Tyreke, we want you to be our sixth man,' is that something you would be okay with?
Definitely. I don't have a problem with that. I mean, I'm a basketball player and I know when I'm out there, I'm going to play hard. So at the end of the day, you've got to listen to the coach. And if that's the role he wants me to play, then I'm definitely willing to do that.
What stands out about your new team as being especially exciting?
Obviously, playing with the young guys of New Orleans -- that, I think, will fit my style of play and working with coach Monty Williams. I talked to him on the phone and he preached about defense. He wants me to be one of the best defenders, and I want to take on the challenge.
Looking back on the Sacramento situation, whether it was playing different positions or having different coaches, what was the most challenging part for you?
It was a little bit of everything. And the coaches: I haven't really had consistent coaches my whole career, and there's always been a change. When there was a change, trying to move me from point guard to the small forward, back to shooting guard -- not knowing. I think I did a good job.
This interview has been edited and condensed for clarity.
Email me at jordan.schultz@huffingtonpost.com or ask me questions about anything sports-related at @Schultz_Report. Also, be sure and catch my NBC Sports Radio show, Kup and Schultz, which airs Sunday mornings from 9-12 ET, right here.