Wombfire (noun, hashtag) 1. a child so amazingly cute that they figuratively set your womb ablaze. 2. when your reproductive system (i.e. womb) tingles with maternal excitement, potentially breaks out into Beyoncé choreography and/or prompts spontaneous family planning (i.e. running home to make a baby). 3. hashtag used to illustrate flurry of emotion described above (i.e. "This baby is giving me major #wombfire" or "#Wombfire alert!")
Cuties: Justice Elijah Newton (7 years old); Gideon Sterling Newton (3 years old) and Caleb Samuel Newton (11 weeks old)
Mom: Melissa Newton (Co-owner of J&M Photography and Design)
Dad: Jelani Newton (Co-owner of J&M Photography and Design)
Hometown: Birmingham, Alabama
How do you maintain your sanity raising three boys? Lol! I don't! Only a crazy person believes that they have it all together while raising three active, fun-loving, smarty-pants boys.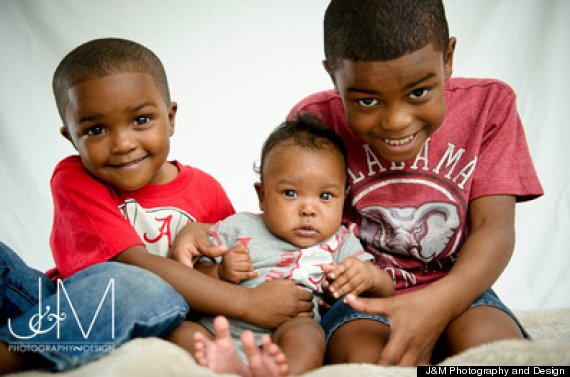 Fill-in-the-blank with the boys...
1. Our favorite weekend activity is ___________.
Justice: Playing XBox and reading a book from my favorite series, "Jack and Annie and The Magic Treehouse."
Gideon: Playing with my Superman and watching "Dora The Explorer."
Caleb: Eating, smiling and sleeping!
2. If we could play with __________ everyday, we would be the happiest guys in the world.
Justice: Sponge Bob games on the computer and XBox.
Gideon: Superman.
Caleb: My hands!
3. Our first words were:___________.
Justice: Dada!
Gideon: Pawpaw!
Caleb: I'm not that good with words yet, but I have that crying thing down pat!
4. We love to sing and dance to "Gangnum Style" by Psy!
5. We can always put a smile on our mommy's face by smothering her with hugs and kisses.
6. The best thing about having brothers is ____________.
Justice: Being the oldest!
Gideon: My brothers are my best friends!
Caleb: Extra hands to hold me when mommy puts me down!
7. One word to describe our personality is: _____.
Justice: Playful.
Gideon: Silly.
Caleb: Curious.
PHOTO GALLERY
The Newton Boys
Check out our past wombfires HERE and HERE and keep the CUTE coming! If you've got a #wombfire or know someone who does, let us know by adding the hashtag #wombfire to your Twitter, Instagram and/or Facebook photos. We'll be in touch if we decide to feature your cutie as a #Wombfire Of The Week.