Getting fired is emotionally-trying enough. So take pity on the former employees of the Barducci's Italian Bistro, who recently learned they'd lost their jobs via text message, WFTV reports. The restaurant is located in Winter Park, Fla.
Employee Jodi Jackson found out about the news on July 4, according to WFTV: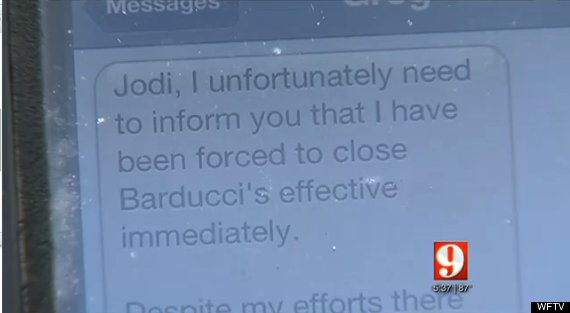 AOl Jobs points out that some employers use text messages to sidestep in-person conversations that could be awkward and unpleasant. But Jackson, who worked at the company for two years, feels the text message from her former boss was inexcusable. "I think it's immoral. I think it's cowardice," she told WFTV.
To make matters worse, Jackson is still waiting on her final paycheck. WFTV's Marisa Mendelson reached out to Kennedy multiple times. He eventually replied, by text: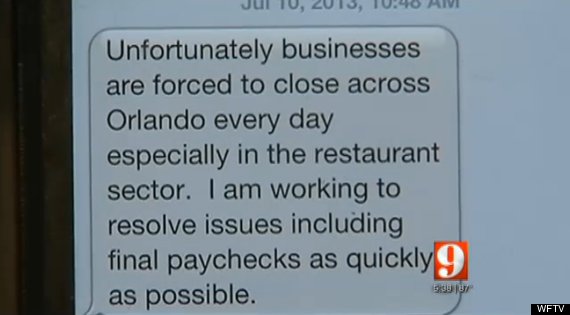 This is not the first report of businesses firing their employees through insensitive methods. In 2010, Shayne Bolsher found out he lost his job as a manager at Fife Fine Foods in Leicestershire, England, when his boss sent him this message:
Dear Shayne it is with regret that i have to give you one weeks notice due to the continueing (sic) drop in trade. i was going to phone you during work hours but got your number after 1700. i will give you a reference if you need one. regards barry
That same year, then-16-year-old Chelsea Taylor lost her job at a cafe in a different part of the United Kingdom after losing a 10-pound note. Her boss delivered the news via Facebook wall post. The message read:
Hiya Chelsea its Elaine from work. Sorry to send u a message like this but bin tryin to ring u but gettin no joy. I had to tell the owner bout u losin that tenner coz obviously the till was down at the end of day. she wasn't very pleased at all and despite me trying to persuade her otherwise she said I have to let u go. I'm really sorry.
BEFORE YOU GO
PHOTO GALLERY
Weird Reasons That People Get Fired