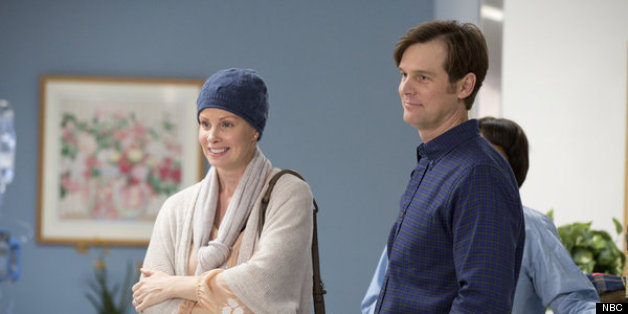 Kristina will have new hairdo when "Parenthood" returns for Season 5.
Actress Monica Potter has been tweeting about her big haircut for the NBC series and revealed the new look on ET Online.
The new hair!! RT @ETonlineAlert: EXCLUSIVE PIC: http://t.co/qd4fpJegKL pic.twitter.com/ACE93wvoUk @nbcparenthood

— Monica Potter (@monicapotter) July 13, 2013
Over the course of "Parenthood" Season 4, Potter's character Kristina battled breast cancer. The season ended with the character finishing chemotherapy and finding out she was free of the cancer. Potter wore bald caps and wigs during the show.
Potter said she hopes Season 5 of "Parenthood" will give her some lighter material. "I would hope that for poor Kristina, we'd see a lot of funnier moments next season," Potter told The Huffington Post towards the end of Season 4. "I like to do comedy and I think that'd be a lot of fun to show another side of her and just show her celebrating life ... She's always been sort of the cautious one, the meddler, the this and the that and it always came from a place of wanting to protect people. I also feel like going through this she's going to become a lot looser next year and ... she won't sweat the small things as much."
"Parenthood" Season 5 premieres on Thursday, September 26 at 10 p.m. ET on NBC.