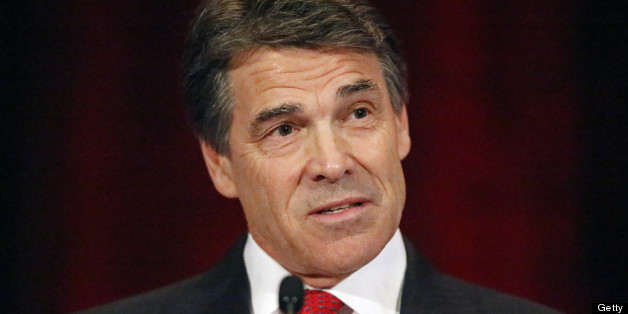 Texas Gov. Rick Perry (R) defended his efforts to lure jobs to the Lone Star State, brushing off criticism from other governors by saying it's nothing personal.
Perry responded to criticism from Illinois Gov. Pat Quinn (D) during an appearance on CNN's "State of the Union" Sunday.
"It's not about him, and it's not about me. It's about the business climate in our respective states," Perry said. "I will suggest the Chicago Bulls come to San Antonio and they're not about poaching wins, they're about competing. Sometimes we win and sometimes we lose."
Perry has visited such states as Illinois and California in an effort to bring jobs to Texas, receiving lots of criticism along the way.
In April, Quinn said Perry was "showboating" and called the former Republican presidential hopeful a "big talker." California Gov. Jerry Brown (D) called ads Perry aired in his state touting Texas's business climate "barely a fart."
BEFORE YOU GO
PHOTO GALLERY
How Many Fingers Is Rick Perry Holding Up?