Even Cerebral palsy could not stop Cecilia Neimann from winning her division at the UCP Shawnee Mission Triathlon. Her mother made sure of that.
The 9-year-old from Lenexa, Kan., ran with her grandmother and biked with a family friend, KSHB-TV reported. But the most heartwarming moment came when her mother, Debbie Neimann, swam the race's 500 meter leg, pulling 55-pound Cecilia in a raft.
(Story Continues Below)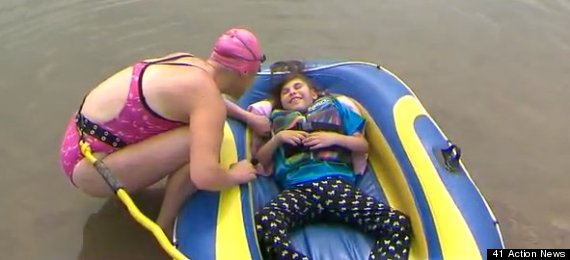 The pair trained together for months.
Debbie Neimann told FOX 4 KC that she was inspired by a father-son team who'd done an Ironman triathlon together.
"I said someday, I'm gonna take her through a triathlon," Neimann said.
On Sunday that dream became a reality. Cecilia became the first person to win the race's new 'Challenged Athlete' division.
"I can hear her say, 'Momma, go,' and the smiles and stuff and anything that's bothering me just melts away because it's so inspiring," Debbie Neimann told FOX 4. "I think her disability to her kinda disappears for a few moments and she just feels like a normal kid."
BEFORE YOU GO
PHOTO GALLERY
The People Who Give Obama Hope