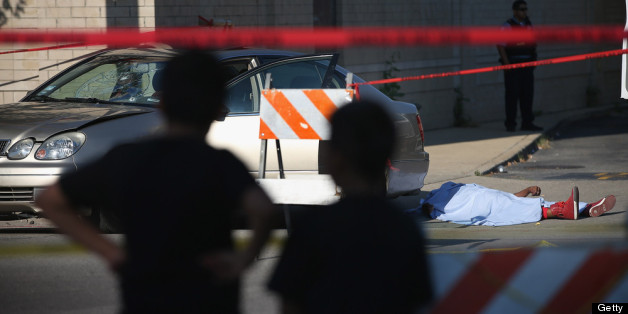 Updated story
At least 21 people were wounded, five of them fatally, in weekend shootings in Chicago through Monday morning, just a week after communities citywide were recovering from a long holiday weekend left 12 dead and injured dozens more.
Three of the weekend's fatal shooting victims were shot Sunday. Around 11:05 p.m., 35-year-old Ernest Carter and a 37-year-old woman were shot while sitting in a parked car in the 4000 block of West Cullerton Street in North Lawndale, according to DNAinfo Chicago. Carter was taken to Mount Sinai Hospital, where he was pronounced dead shortly after the shooting.
Earlier Sunday, the body of a 22-year-old man was found with a gunshot wound to the head in the 1600 block of West Jonquil Terrace about 3:45 p.m. in Rogers Park, CBS reports. The man was later identified as Blake Lamb.
On the South Side about an hour earlier, Joseph Brewer Jr. was shot in the back in the 10500 block of South Oglesby Avenue about 2:50 p.m. He was pronounced dead at Northwestern Memorial Hospital shortly thereafter, according to CBS.
According to the Chicago Tribune, at least six other people were wounded in non-fatal shootings Sunday evening through early Monday.
Earlier in the weekend, two men were killed by gunfire. According to DNAinfo, 25-year-old Jeremy Morris was fatally shot when two men approached him as he was sitting in a car in the 6800 block of South Paxton Avenue in the city's South Shore neighborhood about 10:30 p.m. Friday. Morris was pronounced dead at the scene of the shooting.
About three hours later, Fernando Sanchez, also 25, was gunned down near the intersection of Ridgeway Avenue and LeMoyne Street in the Humboldt Park neighborhood on the city's West Side about 1:50 a.m. Saturday. He died a few hours later at Stroger Hospital. Police say Sanchez's slaying appeared to be gang-related.
At least eight other people were wounded in shootings Saturday evening into Sunday morning, the Chicago Tribune reports, and two other men were wounded in non-fatal shootings in Old Town and Rogers Park Friday evening.
The violence took place after the Rev. Jesse Jackson joined Father Michael Pfleger of St. Sabina Church in an anti-violence rally on the city's South Side Friday evening.
Also participating in the rally was Cleopatra Cowley-Pendleton, the mother of Hadiya Pendleton, the Chicago teen killed earlier this year in a shooting that attracted national headlines. The loss of her daughter has prompted Cowley-Pendleton took on a new role as an anti-violence activist.
"I'm tired of crying," Cowley-Pendleton said Friday, according to ABC Chicago. "I don't have no tears for you, this is not for show, this is my life. This is my life, whether the cameras are on or off, and unfortunately no one is doing anything to protect everyone else's life."
Gun violence in Chicago prompted many to speak out in recent days and question whether enough was being done to keep the city's streets safe. Citing the city's "epidemic of violence," U.S. Rep. Mike Quigley (D-Ill.) this week called for more federal funding to help target the city's gangs and illegal gun trafficking.
State Rep. Monique Davis, a Chicago Democrat, called on Gov. Pat Quinn to ask for the National Guard to come to the city "to protect our children so they can go to the park and swim and play and have a childhood," NBC News reports. Davis said the governor has not responded to her request.
Meanwhile, Chicago Police Superintendent Garry McCarthy commented last week he was "disappointed" with the holiday weekend gun violence but still insisted his crime-fighting strategies are responsible for reducing year-to-date shootings by 25 percent and homicides by 29 percent this year compared to last.
Critics of McCarthy's strategies have long questioned whether one of McCarthy's key strategies -- saturating 20 high-crime areas of the city with foot patrols staffed by officers working overtime -- will be effective throughout the summer as overtime funding for the department was fast running dry.
According to the Chicago Sun-Times, the department spent $21.3 million on police overtime in April and May, meaning they have already overspent the department's overtime budget for the entire year by $10.5 million. Mayor Rahm Emanuel previously insisted that the city will find a way to bankroll the ballooning overtime costs.
BEFORE YOU GO
PHOTO GALLERY
Crime In Chicago