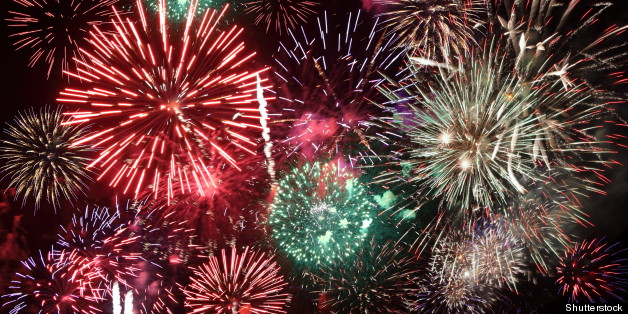 If Rob Mongiello could cast a vote, the skies over his home in Simi Valley would be filled only with stars on the night of July 4, 2014.
A week ago on the night of the Fourth, Mongiello's wife and daughter were sitting on lawn chairs in front of a home that faces soccer fields at Rancho Santa Susana Community Park. They were part of a crowd of 8,000 people waiting for a fireworks show that ends a festival so popular that people set up chairs in advance.
Mongiello himself was in Ojai, packing up the inflatable jump houses he delivered to an Independence Day festival that was about to segue into its own semblance of rockets' red glare.
In Simi, Terri Mongiello, her 18-year-old daughter and many others were running. A fireworks launching station that apparently fell over was shooting shells sideways -- toward the crowd. At least 37 people were injured.
A plug of wood shot like a cannon blast tore a hole in the Mongiellos' cedar fence. Spot fires blazed in their yard and in a neighbor's ice plant.
About the same time in Ojai, Mongiello and his son heard a boom, followed by a thud that sounded closer to the ground. A shell misfired, possibly exploding while still in its tube, severely injuring a 32-year-old man who was working on the fireworks launch. On Friday, more than a week later, he remained at the Grossman Burn Center in West Hills in critical condition but stable.
So ask Mongiello, a 59-year-old sign builder, about whether fireworks should sparkle and boom a year from now in the park in front of his home.
"No. No. No," he said, pointing to the 4-inch thick chunk of wood that now rests in his patio and arguing that the fireworks display at least needs to be better contained. "They got lucky. If that had hit you, it would have killed you."
TIME FOR CHANGE?
At least one leader of an organization sponsoring fireworks in Ventura County won't address the question of whether the Fourth of July misfires and injuries will affect next year's shows. Others say it's too early, adding discussions haven't started yet. Their focus remains on the people who were injured; the last of the 26 people brought to Simi Valley Hospital were released three days after the show.
"That is 350-some odd days away. We haven't even begun to talk about that stuff yet," said John Lindsey, president of the Rotary Club of Simi Valley. The club puts on the festival and fireworks show to raise money for nonprofit groups that range from the YMCA to the Free Clinic of Simi Valley.
A moment later, Lindsey said it's not guaranteed the fireworks show will come back.
"It's just premature. It's not necessarily a given," he said, then referring to the efforts led by state fire marshals to determine exactly why fireworks shot into the crowd. "Much of it depends on the investigation."
A representative of the American Pyrotechnics Association said the Simi incident is igniting discussion of whether existing practices need to change. Guy Colonna of the National Fire Protection Association said a committee from his group will likely review details of the Simi accident and make recommendations on issues, including whether the risk of fireworks shooting sideways means people should be kept farther away.
"I think everyone will take a look at how close people will be to the fireworks," said Karen Lindsey, an administrator with the Conejo Recreation and Park District, which sponsors an annual fireworks show with the city of Thousand Oaks. "If one of our things tipped, what would be the likely chance of someone getting hit?"
The Thousand Oaks show went off without a hitch this year and was conducted by Bay Fireworks, the same company that handled the Simi display. Lindsey said once the investigation of the Simi accident is complete, organizers in Thousand Oaks will re-evaluate their show.
"There's always a risk," she said. "What you're looking to do is minimize your risk and do everything you can to make it as safe as possible."
Among the first up is the Ventura County Fair in Ventura. Beginning July 31, an eight-minute fireworks show will be ignited every night of the fair's 12-day run.
That won't change, said Fairgrounds CEO Barbara Quaid. The fair uses the same company, Pennsylvania-based Zambelli Fireworks, that conducted the Ojai show.
Safety concerns are mitigated in part because fireworks are launched over the ocean and away from the crowd, Quaid said. The launching area is blocked off from any observers.
The fireworks are also fired electronically, meaning technicians will be farther away than at the Ojai show, where devices were launched manually, said Doug Taylor, president of Zambelli Fireworks.
While state officials have not finished their investigation, it appears the injury of the worker in Ojai stemmed from a shell manufactured in China that exploded too early, Taylor said. He said technicians at the fair and every other show conducted by the company are being told to take extra caution.
"Having a shell break in the pipe is not common, but it does happen," he said.
The only hitch that would keep the Ojai Independence Day Committee from holding a fireworks show next year would be Nordhoff High School. If the school refused to rent its stadium, the group would have nowhere to go, said Nancy Hill, chairwoman of the committee.
Linda Taylor, president of the Ojai Unified School District board, said she can't comment on whether it will discuss the issue. Hill worries the school could be pressured into changing a relationship that has existed for 52 years.
"If reporters are hounding them and hounding them and they get all this negative press, they might decide we can't do it," she said, characterizing the accident as the only incident of its kind in the show's history.
"It's a very tragic thing to happen, but it happened," she said.
'FREAK ACCIDENTS'
In Simi, it happened to Danny Morales, an uninsured and unemployed cook. He was with 30 friends and family members about 200 yards from the fireworks launching site. When the fireworks starting arcing low to the ground, he was struck between the eyes.
He was rushed to Los Robles Hospital & Medical Center in Thousand Oaks, where he received at least 15 stitches. Now he worries about bills for the ambulance, the CT scan, the emergency room and even the IV. He doesn't have a way to pay. That's why he plans to talk to a lawyer.
Morales likes fireworks. He doesn't want them to stop. He just wants to make sure changes are made; maybe a different company used, maybe concrete used to anchor the racks holding the fireworks.
And if the show happens next year, Morales isn't sure he will go.
"I almost feel like I need to be convinced," he said.
Others point to the displays held across the county and nation every year.
"The two mishaps you had are just huge aberrances," said Doug Miser, a battalion chief with the city of Ventura Fire Department, emphasizing his opinion is just that -- an opinion. "These are total freak accidents."
The liability of igniting explosives may seem like a barrier to community groups weighing whether to sponsor fireworks shows. But Rotary clubs are covered by a blanket insurance policy offered by Rotary International, said Ellyn Dembowski, who organized a longtime fireworks show for the Rotary Club of Ventura.
The Ventura show was canceled this year, but not because of the risk of lawsuit or injury. Instead, the decision centered around the $40,000 needed to put on the show and the $7,500 loss suffered last year.
"We didn't make money the last three years we did it," Dembowski said, adding there's still a chance the program could be revived as a laser light show. "It's half the cost. We don't have to get all these permits from the fire department because there's no possibility of starting a fire."
Although sponsored by a Rotary club, the Simi Valley show was insured by the display operator, Bay Fireworks.
FIREWORKS FANS
There's little data on the safety of public fireworks shows. The U.S. Bureau of Labor Statistics tracks injuries of pyrotechnicians and other employees involved with conducting fireworks shows. In 2011, the most recent year available, 25 were injured nationwide. Five died.
Julie Heckman, executive director of the American Pyrotechnics Association, said one reason there's little data is because there are few incidents.
"When we saw the coverage of Simi Valley, I had to think back to when was the last time we experienced something like that," she said, referring to a 2008 show in Charles Town, Iowa, where 37 people were injured and an Aurora, Colo., incident four years earlier that left at least 12 people hurt.
Lindsey, the park district official from Thousand Oaks, argued that eliminating fireworks shows increases the risk of injury by pushing people to set off their own fireworks.
In Ventura, where there was no show this year, police calls involving fireworks increased from 108 last year to 184 this year.
"I'm not convinced that because Ventura didn't have a fireworks show, we had an increase," said Assistant Police Chief Dave Wilson, noting calls for all complaints rose this year. "I just think we had a busier Fourth."
Few people want public fireworks shows ended. Many argue for re-evaluating the displays and making sure they are as safe as possible. But they also want to preserve tradition and events that bring communities together.
Thousands of people go to the Simi Valley event every year because they love it, said Tony Orht, a Simi Valley banker who was there on the Fourth.
"More people were hurt on the freeways that day," he said. "We don't stop driving."
BEFORE YOU GO
PHOTO GALLERY
July 4th Pictures 2013