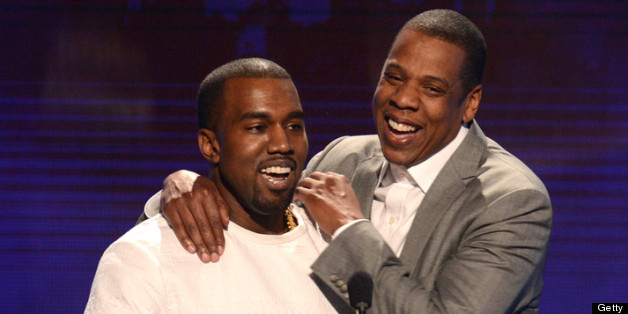 Two of Jay-Z's big collaborations on "Magna Carta Holy Grail" almost didn't make it onto the album.
In a recent interview with BBC's Radio 1, the 43-year-old rapper spoke about the early stages of "Magna Carta," explaining that he began recording for the album immediately after his 2011 collaboration album with Kanye West, "Watch the Throne."
"We had this whole plan when me and Kanye did [the] 'Watch The Throne' album that we would go right into our solos after that," Jay-Z told BBC's Radio One. "Soon as I thought we had wrapped up 'Watch the Throne,' I made two records -- I had 'Holy Grail' and 'Oceans.'"
While "Holy Grail" and "Oceans" now appear on Jay-Z's "Magna Carta Holy Grail" as collaborations with Justin Timberlake and Frank Ocean, respectively, if West had had his way, the songs would've been used for something that he was a part of.
"I played those records for Kanye," Jay-Z explained. "And he was like, 'No, those have to go on 'Watch the Throne.'"
West's suggestion reportedly did not sit well with Jay-Z as the two famed partners proceeded to argue for days. "Four days, four days literally arguing ... not like fighting. Well, there was some pushing at one point but not between us, just everyone else got a little excited," Jay-Z recalled.
Jay-Z's word choice and the others' pushing techniques must have won out, as "Watch the Throne" was released without the songs.
In an interview with Diddy's Revolt TV earlier this month, producer Timbaland spoke about "Magna Carta Holy Grail," claiming that the first song that was recorded for the album was "Picasso Baby," a track which Jay-Z recently recorded a music video for.
"The first song that we did that sparked everything off, we did the song called "Picasso [Baby]," which is the hardest song on that record," Timbaland said. "That sound set the tone for how the whole album was going to be."
No word as to whether West was given an early listen to "Picasso Baby."
PHOTO GALLERY
Jay-Z & Kanye West Music In Movie Trailers
BEFORE YOU GO