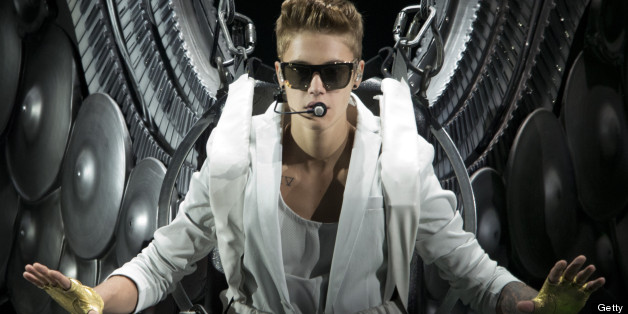 If Justin Bieber seems a bit unhinged lately, maybe you're just a hater confused admirer. Sure, he peed in public while insulting a former president and dubbed Anne Frank an anachronistic Belieber, but are you 19 years old with five No. 1 albums? Do you have over 41 million followers on Twitter or enough panache to rock a bowl cut?
Probably not, pal, but you better Belieb that Justin does. So, maybe it's time to start paying attention. There's a lot of wisdom in that adorably petit Canadian body, and maybe you could just learn from it. Here, to quell the ignorance, Justin Bieber's guide to life:
On politics...
"I'm not sure about the parties. But whatever they have in Korea, that's bad."
On education...
"It's kind of hard to balance school and work sometimes. But sometimes, like, if I'm going to the White House and I'm in there doing a tour and stuff, that's like school."
On travel...
ITALY SEE U SOON! i want pasta.

— Justin Bieber (@justinbieber) March 22, 2013
On becoming an American citizen...
"You guys are evil, Canada's the best country in the world."
On comedy...
sometimes u just wanna go to a comedy club and have a laugh. no trouble. just want to laugh.

— Justin Bieber (@justinbieber) June 18, 2013
Random thought- I should get a tattoo of a smiley face on my foot and call it happy feet. Haha

— Justin Bieber (@justinbieber) June 12, 2013
On piracy...
Who has a video of the ufc fight tonight? Send it to me

— Justin Bieber (@justinbieber) July 7, 2013
On cheese...
"Singers aren't supposed to have dairy before a show, but we all know I'm a rule breaker."
On candy...
"I also try to read all of my fan mail. A lot of them send me candy, which I'm not allowed to eat 'cause my mom says it might be poisonous."
On health...
"Whenever I'm sick, my doctor jokes that I have Bieber Fever."
On minorities...
"I'm actually part Indian. I think Inuit or something? I'm enough percent that in Canada I can get free gas."
On abortion...
"I really don't believe in abortion. It's like killing a baby."
On Kim Kardashian...
"I think she's cute. And, no, she's not too old for me. Above 40 is a little too old for me."
On hair loss...
"I mean, there are things to prevent that nowadays, like Propecia. I don't know why [Prince William] doesn't just get those things, those products. You just take Propecia and your hair grows back. Have you not got it over here?"
On the calendar year...
april is a fun month. #ImNotDone :)

— Justin Bieber (@justinbieber) April 1, 2013
sunday comes after saturday? weird

— Justin Bieber (@justinbieber) March 19, 2011
On trying hard...
"As hard as I've tried, I don't know how not to be adorable. Last week, I accidentally waited in line for two hours for my own autograph."
On attractiveness...
"Not trying to be arrogant, but if I walked down the street and a girl saw me, she might take a look back because maybe I'm good-looking, right?"
On inspirational public figures...
Nelson Mandela is the man! #BELIEVE

— Justin Bieber (@justinbieber) May 9, 2013
On love...
"A girl could be sitting on her computer, trying to get noticed by me, and not knowing she's the future Mrs. Justin Bieber."
On religion...
"I think that's part of the reason I'm here. Not just because I'm talented, but because God had a purpose for me to just help people. I'm spiritual ... although I slept in [and missed] church yesterday."
On success...
"When I'm doing music and I'm really focused, I'm not going to not be where I am."
On being grateful...
Merci

— Justin Bieber (@justinbieber) March 20, 2013
like i said... Merci

— Justin Bieber (@justinbieber) March 20, 2013
BEFORE YOU GO
PHOTO GALLERY
Justin Bieber through the years