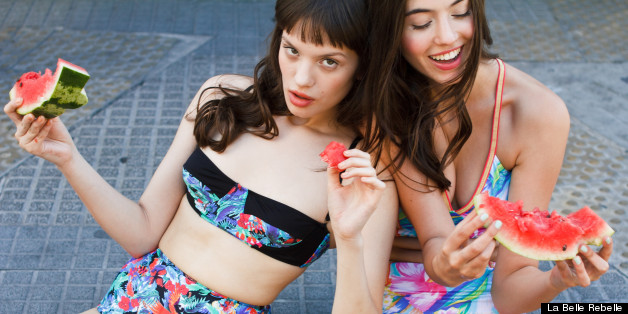 Mercedes-Benz Fashion Week Swim, July 18 through 22, will bring a blur of Lycra into Miami Beach, but one local beach-y, rock'n'roll collection is bound to stand out from the bikini pack.
La Belle Rebelle, with a new storefront on South Beach's Washington Avenue, will launch their second line at Swimshow this weekend, featuring bathing suits crafted for a post-modern pinup vixen.
The line's tone is all South Florida from the "Exotic Rainforest" collection of peacock-hued prints and tropical floras to the "Underwater Aquatic" with nods to corals, shells, and pearls.
While Swimshow is exclusively open to industry folks, look for La Belle Rebelle-clad models at Mokai on Saturday and at pop-up events at SLS, The Standard, and Broken Shaker.
HuffPost Miami spoke with La Belle Rebelle designer Fab Silberstein on how both Art Deco cool and rocker girlfriends in the South of France played into her incredible swim designs.
Who are you:
Fab Silberstein

Years in Miami: 3

First memory of Miami?
The take-a-picture-with-a-parrot guy at Bayside (I was 6 years old)

Current neighborhood:
Miami Beach

Current gig:
Designer at La Belle Rebelle

Favorite 'Only in Miami' moment?
Celebrating the Heat victory by jumping in the pool fully clothed with a bunch of people and a Heat-T-shirt -wearing Chihuahua.

What's your idea of a perfect day in Miami?
Wake up ridiculously early, do some beach yoga, have a green smoothie, lay on the sand, meet with friends, watch the sunset while drinking ice cold Blue Moons -- that's the part where somebody starts playing guitar -- take a nap, have a nice shower, put on decent clothes, head to Wynwood, listen to some bands, dance to rock n'roll, sleep like a baby.

395 or 195?
Neither!

Where do you take out-of-towners visiting Miami?
Dine at Gigi, drink at the Wood Tavern, dance at Gramps.

What's your background?
I studied fashion in Montevideo, Buenos Aires and Miami.

When did you catch your big break in fashion?
In 2012, when I presented my debut collection at the Swimshow.

What kind of woman do you have in mind when designing La Belle Rebelle suits?
Rolling Stones' girlfriends in the South of France.

Does the collection reflect design tropes or themes in Miami?
I haven't really thought about it...I guess the color palette is quite old-school art deco Miami.
What swimwear trend are you sick of?
Fringe, I guess. I think it looks adorable on the good quality, sophisticated ones, very Woodstock which I adore. But then cheaper versions of the trend started coming out all over the place and that was just unfortunate.

How do you think Miami street style seeps into beach attire?
I think mostly silk and see through cover ups are everybody's favorite. Also some nice crochet mini dresses and long-sleeve blouses that pretty much cover everything they have to cover while still sort of showing the bathing suit you're wearing underneath. Also any high-waisted denim shorts with just your top works just fine.

Which other designers inspire you?
Dolce & Gabbana, Marc Jacobs, everything Miuccia Prada does, and Yayoi Kusama (I know, not a fashion designer but still counts.)

Last big project you did:
My very own exclusive prints. I worked with a brilliant textile designer, Natascha Spitzer, and couldn't be happier with the result. Can't wait to show them!
Upcoming projects you're working on:
A mini resort collection, trunks for dudes, and maybe some cover-ups.

Why do you hate Miami?
Hate the fact that the car must be an extension of my body.
Why do you love Miami?
I love the fact that it is common social behavior to walk around exposing 90% of your skin in the middle of the street.

What are three local meals you can't live without?
Any black bean soup, the avocado and spinach lettuce wrap at Burger and Beer joint, any smoothie at Cafe del Mar (I'm a veggie lover so that's probably why my meals sound so boring haha.)
In a word or two or three, Miami is...
An alternate universe.