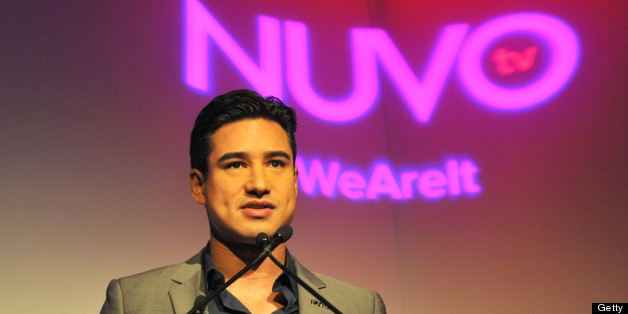 At this year's Upfront, the yearly gathering of television networks where they dish out their upcoming programming for advertisers, NUVOtv wanted everyone to know that the new projects and multicultural programming they have coming up this year will make the channel a one-stop spot for the best in English-language entertainment for the "modern Latino." One of the new programs that NUVOtv featured at the meeting was the interview series hosted by Hollywood Latino superstar Mario Lopez, called "Mario Lopez: One on One."
In his interview series, he's talking to the most popular and widely renowned figures of the Latino entertainment world. Comedians, actors, athletes and musicians will sit down with Mario Lopez.
Special guests this season include actress Eva Longoria, New York Jets quarterback Mark Sanchez, funny man George Lopez, musicians Emilio and Gloria Estefan and more.
VOXXI spoke with Mario Lopez about his new interview series, his Latino heritage and — what Jennifer Lopez called at Upfront — the "Modern Latino."
Q&A with Mario Lopez
VOXXI: You've been on television, whether as an actor or a host, for a long time. I read that the original role of A.C. Slater was supposed to be Caucasian before they cast you. How has the Latino presence in television changed since you were on "Saved By The Bell"?
Mario Lopez: I think we're heading in the right direction.
VOXXI: So "Extra," "The X Factor," your own radio show, and now this show on NUVOtv. How did you find time to take on another endeavor?
ML: This was important to me; it's about my culture and about my community. It's important to highlight. I'm excited to be apart of that and play a role.
VOXXI: Now, I saw the previews to the show, and from what I saw, it appears like a Latino-oriented "Oprah's Next Chapter" because you're going into the homes and lives of these people to really get to know them. Do you think that's an accurate description of your new show?
ML: It's an extremely accurate description. I think I want to use that.
VOXXI: Do you see yourself being to Latinos what Oprah is to the African-American community — a strong, influential and very successful media figure that they can identify with?
ML: Well I hope so. It's very complimentary. I hope to get to that point one day.
VOXXI: How were you contacted about doing this?
ML: I actually pitched it to them. I told them that this would be a great idea for a show.
VOXXI: NUVOtv is a channel for the bicultural, younger Latino audience. Jennifer Lopez said it was for the "modern Latino." What is the "modern Latino" to you? What about this channel made you want to come on board?
ML: It's an all-American person who at the same time identifies with their culture; they eat tacos and hamburgers. They listen to salsa and hip hop.
VOXXI: Do you watch NUVOtv? What's your favorite show on NUVOtv?
ML: I'm familiar with the programming. I guess I'm rooting for my own show.
VOXXI: How in touch with your Latino heritage are you? Can you speak fluent Spanish?
ML: Yeah, it's pretty much, if you don't practice you lose it. I'm a first generation, that was actually my first language. I grew up a few miles from the border.
VOXXI: How is "One on One" different than what you already do on "Extra"?
ML: Like you said, it's sort of like "Oprah's Next Chapter." We go into people's homes; there's no live audience.
VOXXI: You have kids. How important is it for them to learn Spanish and be in touch with their Latino roots?
ML: It's important. My parents and our nanny speak Spanish. She's only two, but she's learning.
VOXXI: Do you ever see yourself transitioning back into acting. I know you wanted to focus on journalism?
ML: Never say never. I have a lot on my plate. I just wanted to focus on one area more.
Check out the highlights of the show and remember to tune in to NUVOtv for the season premiere:
Highlights from Mario Lopez's 'One on One'
Originally published on VOXXI as Mario Lopez dishes on his new show 'One on One'
BEFORE YOU GO
PHOTO GALLERY
Mario Lopez, Courtney Mazza Engaged