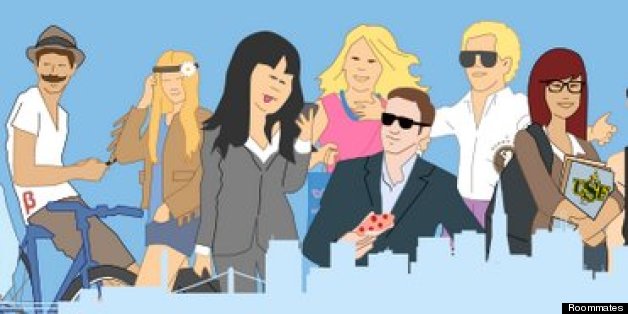 Tinder makes online dating less scary by using Facebook to pre-screen potential dates.
Now a new startup is applying that method to a possibly even more frightening part of your life: The search for a normal roommate.
Roommates, an app that uses your Facebook profile to match you with potentially compatible roommates, launched in San Francisco on Wednesday and is the newest project by Apartment List, a rental real estate search engine startup.
Users enter variables such as interests, living styles, target neighborhoods and price range into the Roommates app which then suggests potential matches. Users then anonymously browse potential roommates and are alerted to Facebook friends in common, much like the popular dating app Tinder. Should two users like each other, a match is made and a chat is started.
"Because of the Facebook connection, it's easy to vet potential connections with your friends," explained Roommates and Apartment List founder John Kobs.
The app is currently available on Android, and iOS will follow shortly. Kobs plans to roll out editions in New York and Chicago later this year.
Kobs hopes Roommates will allow renters to connect with people who would actually be compatible instead of giving into the frothing madness of apartment hunting in major cities.
"As it is now, there's so much competition," said Kobs. "You'll see a crowd on the street on a weekend morning in San Francisco and it's not some hot new restaurant -- it's an open house."
Kobs recalled looking for a roommate to fill a closet-sized bedroom in a carriage house in New York City years ago.
"We must have had 20 applications," he told HuffPost. "People brought resumes, cookies, nice bottles of wine -- all for a room that only fit a twin bed. In the end, I think someone ended up paying $1300 a month."
Don't believe apartment hunting is that bad? Check Ryan Nethery's blog THE WORST ROOM -- a documentation of actual New York City Craigslist listings (highlights below):
PHOTO GALLERY
The Worst Of 'The Worst Room'